Recently there's been much controversy regarding the reduction in native resolution in Quantum Break from the promised 1080P at 30FPS to 720P and performance that still wasn't quite what we expected, or rightly wanted from a Microsoft platform exclusive game that's making use of DirectX 12. Remedy has spoken up about the resolution dispute, explaining, for better or for worse, their decision and also the actual techniques used to render at their target resolution, which is technically 1080P, though doesn't quite start that way. It's... complicated it seems.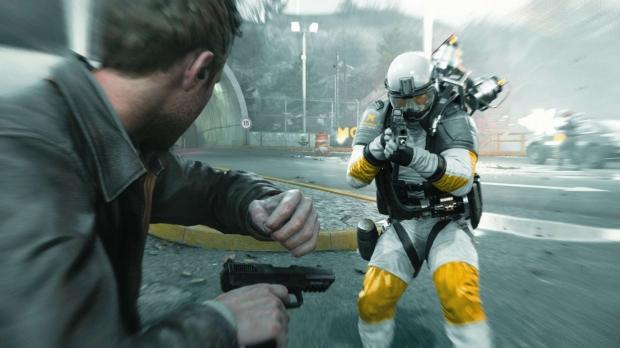 Quantum Break is a very good looking game, there's really no denying that fact outright. There are aspects that are quite stunning given the base hardware configuration that Remedy is working with. The scenes we've seen in the various trailers, demos and screenshots are, thankfully, accurate to the actual game. That is, there's no "downgrade" that's happened in the slightest, it's just that the final perceived resolution differs from the initial resolution, and can vary wildly in-between.
It's 1080P, sort of. But initially, any given scene seems to begin life as a 720p frame with 4X MSAA added to it (which actually looks great by the way). But it's upscaled and reconstructed from four frames to make the final output that we see. This is a way to save on power by making it the resolution we want with a decent amount of visual quality thrown in.
It's not really the fact that it's actually 720p that's so distressing, but that we've been misled about the resolution. Halo 5 is an example of a very good looking game that isn't quite 1080P, but they were very forthcoming about the dynamic resolution scaling, and, in the end, it didn't really affect anyone's perception of the game. The UI elements and other on-screen elements ended up being very usable at any resolution it was rendered at. So the resolution wasn't the issue there either, as is the case with Quantum Break. The game is well made and the resolution doesn't limit the experience in this particular case. It's the deceptive marketing that's more concerning. The filmic and cinematic feel is well placed, and you'll no doubt still enjoy it. The full statement from Remedy is below.
Quantum Break's 1080p output is a temporal reconstruction from four previous 720p 4xMSAA frames. This approach gets us high pixel quality in combination with complex shading and effects, allowing us to achieve a cinematic look. However, varying sample counts between passes and temporal upscaling makes talking about resolution, as it is traditionally understood, complicated in the case of Quantum Break. Since the start of "Quantum Break's" development, the most important thing for Remedy and Microsoft has been delivering a compelling gaming experience with superior artistic quality. This is what Remedy is renowned for. We're confident that we have achieved this, and can't wait to hear what fans think on April 5 when they play the game.