As we get closer to NVIDIA's GPU Technology Conference in early April, we're finding out more details on the next-gen Pascal architecture, and what cards will purportedly arrive under the new 16nm process. Now remember, these are just leaked specs on the purported cards - the specs could change, and so could the naming system NVIDIA uses on the next-gen cards.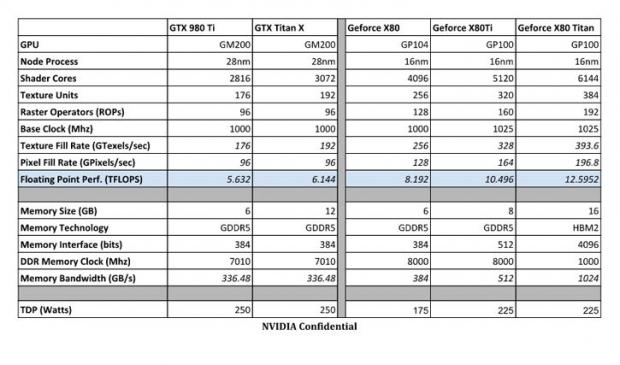 According to the latest rumors, NVIDIA will launch the new cards under what we'll call them for now (I seriously don't think they'll be called this): GeForce GTX 1080, GTX 1080 Ti and the new Titan X successor. Starting with the GTX 1080, which will feature the GP104 core, we'll see 4096 CUDA cores (a 100% increase over the 2048 CUDA cores on the GM204-based GTX 980).
We are to expect a near doubling in texture units, ROPs, memory bandwidth and 6GB of GDDR5 (up from 4GB on the GTX 980). The GeForce GTX 1080 Ti is even more powerful, with 5120 CUDA cores, 320 texture units, and 160ROPS - with another 28% in TFlops performance. The GTX 1080 Ti will also reportedly rock 8GB of GDDR5 (I think we'll see GDDR5X) and a 512-bit memory bus.
Now, the Titan X successor... boy is this card going to be fun. We scale up to a huge 6144 CUDA cores (a 100% increase on the 3072 CUDA cores found in the Titan X), but a big bump to 384 texture units and 192 ROPS. It will reportedly rock a huge 12.5TFlops, up from the 6.1TFlops on the Titan X - and even bumping heads with AMD's dual GPU card, the Radeon Pro Duo and its 16Tflops of performance.
The chart notes that the Titan X successor will have 16GB of HBM2 on a 4096-bit memory bus with 1024GB/sec (1TB/sec) of memory bandwidth - all contained in a more-than-impressive 225W TDP. Wow.
The interesting thing to note here, is that the new cards have amazing power efficiency thanks to the 16nm process, with the GTX 1080 only requiring 175W and the GTX 1080 Ti with 225W. Not too damn bad at all. This means we're going to see ridiculously fast cards, that will also run cool and quiet.
We will know more in a couple of weeks time at NVIDIA's GTC event in early April in San Jose, and we will be there delivering the news to you in person.