Star Crusade aims to be the new Hearthstone but in space
Star Crusade is looking to shake up the CCG game genre, with a unique take on how to play and a fantastic space setting.
Published Thu, Mar 17 2016 9:03 AM CDT
|
Updated Tue, Nov 3 2020 12:00 PM CST
A new online collectible card game is coming out of the gates swinging, and wants to capture your attention in a way that no other game of its genre quite has just yet. Star Crusade: War for the Expanse gives you a massive overarching story, where you get to be in control of one of the six different, powerful factions struggling for power.
Star Crusade offers a deep and highly customizable card battle experience with more than 400 playable cards and multiple different types of playable modes. They've got single-player matches and competitive battles against friends or random people. Four-player play, sharing and gifting of your deck is all coming soon as well.
Competitive collectible card games are a genre that's been growing as of late. The popularity is now crossing over into the digital realm with the likes of Hearthstone continuing to gain momentum since it was officially released in 2013. It's quite the phenomenon really.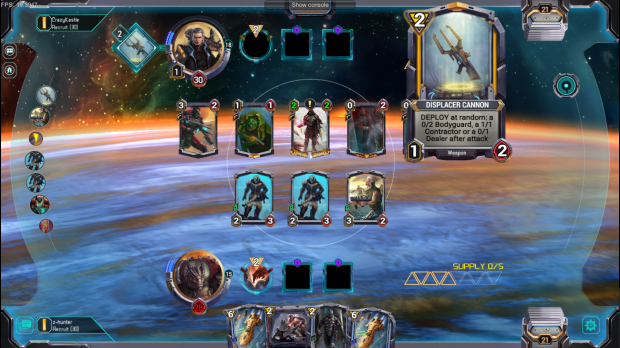 Of course, there are some key features that are supposed to set it apart from the different types of CCG's that are out there. Most notable is the number of cards, but they're also introducing asymmetrical gameplay and a way to add-in new "modules" to customize the way you play. It's set to release sometime in 2016, which means soon.
Massive Strategy: Experience endless variety with a massive pool of more than 400 playable cards - complement the strengths of your faction with an array of neutral mercenary cards to build the next killer tournament deck.

Unique, Asymmetrical Factions: Choose the highly specialized powers of one of six factions - the Annunaki, the Consortium, the Shan'Ti, the Hierarchy, the Hajir-Gog and the Terrans - to build a deck powered by psychic charges or alien mutations - to name just a few of the game's more than 30 special card skills.

Customize Your Tactics with Modules: This all-new feature offers more than 40 "module" cards that add unique bonuses and skills to your commander to customize your forces and strategy even further.

Variable Deck Size: Customize your forces further by building a deck with as few as 25 cards or as many as 40 - your choice will not only affect how your deck plays, but your overall survivability.

Multiple Modes for All Skill Levels: Choose from a variety of modes: single-player practice, head-to-head casual competition, ranked leaderboard play and random draft raid mode. Complete regular daily event quests for tons of free bonuses - it's completely free to unlock every piece of content in the game.

Constant Updates: Star Crusade will soon expand with 2v2 co-operative battle modes, social sharing features to let you share deck ideas and even gift card packs to friends.
Related Tags