State of the Internet says DDoS attacks are up 149% compared to Q3
The State of the Internet report from Akamai shows a huge increase in DDoS activity compared to last quarter, mostly targeting gaming.
Published Sun, Mar 6 2016 12:16 PM CST
|
Updated Tue, Nov 3 2020 12:01 PM CST
The State of the Internet report has been released for the fourth quarter of 2015 and it highlights some of the more malicious trends coming from across the Internet. The short of it is, the volume of attacks against websites has increased through nearly every avenue than compared to the third quarter.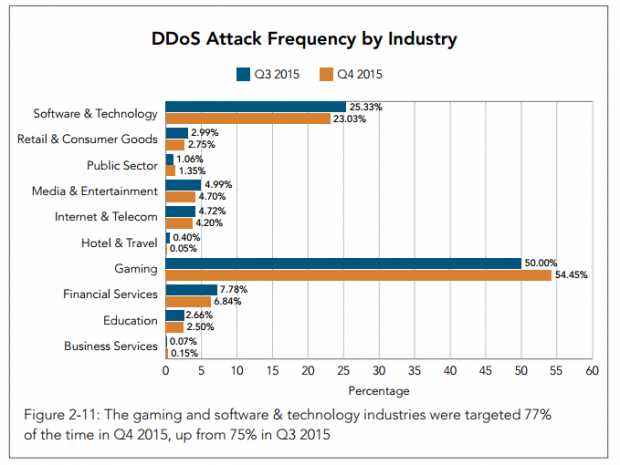 DDoS's in particular have seen quite the massive increase since last quarter, with a 148.85% increase in overall occurrences. The bright side is that duration seems to have been shortened, probably due to the pay-per-play nature of the services that seem to be the most used. But that didn't stop those sites from being targeted multiple times, up to 24 times in some cases. The good news is that the actual number of packets sent was lower. How very nice of these attackers.
Size of attacks seemed to be below 30Mbps, with only four that exceeded that amount and two that peaked even higher. The biggest were at around 309Gpps with 202Mpps (packets per second).That's actually a small decline in the number of big attacks, but 44.44%. But the interesting part is that the majority of attacks, some 54.45% of all the DDoS activity was focused on the gaming sector. People are getting more and more mad during and after online matches, preventing people, servers and games themselves from working right. Not to mention the massive attack on Xbox Live and the PlayStation Network.
Related Tags