Samsung making newer, speedy 256GB flash chips for phones and tablets
Samsung is making waves in the flash market with much larger and faster embedded storage for phones and tablets. Up to 256GB at 850MB/s.
Published Thu, Feb 25 2016 4:05 PM CST
|
Updated Tue, Nov 3 2020 12:01 PM CST
Samsung is getting serious about mobile storage. They may have brought back expandable storage with the Galaxy S7, but they want native storage to grow exponentially as well. And they're doing that by producing 256GB embedded NAND using the Universal Flash Storage (UFS) 2.0 standard.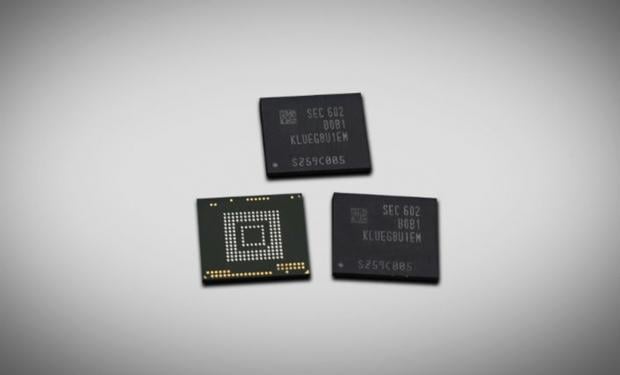 The UFS 2.0 standard will allow phones to enjoy read speeds that are nearly twice as fast as SATA 6, though still lagging behind NVMe enabled PCIe SSD's. The new embedded UFS 2.0 NAND from Samsung will be able to read at around 850MB/s and write at a much lower, but still acceptable, 250MB/s. They're quoting that it'll be able to sustain around 45,000 IOPS, which is far faster than the previous generation.
Samsung says that this is the ideal solution to record 4K footage to, since more mobile phones are beginning to have 4K capabilities. The faster interface means you can actually record them without having to rely on buffering in RAM or otherwise.
128GB used to be the top-end, only expandable via microSD or some Wi-Fi enabled external HDD. Those aren't always the best solutions because then you have to take into consideration consolidating data and making sure you're transferring and saving to the right device.
Related Tags