Anti-virus company Enigma is suing community reviewer over bad review
Enigma Software is suing community forum 'Bleeping Computer' over a scathing review of its anti-virus program, SpyHunter.
Published Wed, Feb 24 2016 9:33 AM CST
|
Updated Tue, Nov 3 2020 12:01 PM CST
'Bleepin' Janitor' from the self-stated free technology community 'Bleeping Computer' purchased a SpyHunter License and unleashed a review to all readers on the forum. Enigma (SpyHunter creators) isn't happy with the negative review and has threatened legal action.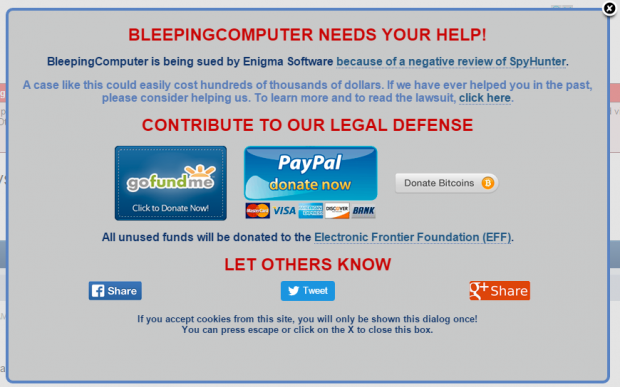 Tech Power Up reported that Bleeping Computer says Enigma has been "bullying" this community into altering the scathing review, with a threat that non-censorship will result in a lawsuit.
While Bleeping Computer has publicly stated that the lawsuit is a waste of time it is still crowdfunding for an official defense, as seen in the pop-up advertisement above - something that appears when you first open the website. Enigma Software claims that this review is slanderous towards its software, while Bleeping Computer states that it is exercising its right to free speech by reviewing and reporting on a product as they see fit.
Want to read the review? Head here.
Related Tags