Super Bowl 50 sets record for most data transferred at sporting event
Fans at Super Bowl 50 shatter data usage at sporting event records.
Published Wed, Feb 17 2016 7:05 PM CST
|
Updated Tue, Nov 3 2020 12:01 PM CST
Super Bowl 50 didn't just set records on the field, but data-wise as well: a historic 10.15 terabytes of data were transferred over the Levi's Stadium Wi-Fi network on game day, according to provider Extreme Networks. The figure represents a 63% jump over last year's 6.23 TB, and sets the record for most data transferred at a sporting event.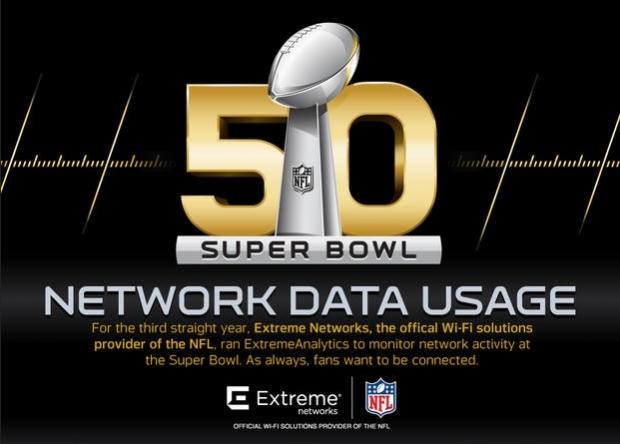 To put things in perspective, 10.15 TB of data is equivalent to more than 6,000 hours of HD video or about 1.2 million 2MB photos.
Levi's features over 12,000 network ports, over 1,200 Wi-Fi access points, about 1,200 Bluetooth beacons, and 40Gbps of bandwidth.
Other analytics revealed some also interesting tidbits:
42% of fans were on the network during the game

the peak amount of fans online was 20,300 (versus last season's approximate 17,322)

cloud storage was the top application group (presumably for picture uploading purposes)

Facebook was the most used social app by a wide margin
Related Tags