ASUS has launched the Savage At Heart promotion, which gives away a free copy of Ubisoft's new Stone Age adventure Far Cry: Primal with the purchase of select qualifying video cards.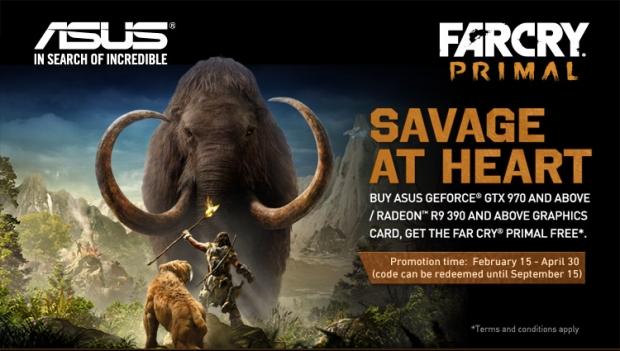 To get the bundle, you'll have to buy an ASUS-branded NVIDIA GeForce GTX 970 or AMD Radeon R9 390 video card or better from Feb. 15 to Feb. 30.
Code redemption starts on March 1st, and oddly enough there's no sign-up process on the mainsite, so I'm not exactly sure how users are supposed to send in their PPID and GPU serial numbers. To register for the promo, you'll have to make an ASUS account and go here to find the event and sign up for it. The promo isn't listed on the events page, so maybe give it a few days.
Below we've included a full list of the qualifying video cards, which includes ASUS' ROG Matrix, STRIX, and TURBO series cards.
ROG Matrix GTX 980 Ti

ROG Matrix GTX 980

STRIX R9 Fury

STRIX GTX 980 Ti

STRIX GTX 980

STRIX GTX 970

TURBO Series GTX 970

ASUS GeForce GTX Titan Z

ASUS GeForce GTX TItan X

ASUS R9 Nano

ASUS R9 Nano White

ROG Poseidon Series GTX 980 Ti

ROG Poseidon SEries GTX 980

DirectCU Black Series GTX 970

Mini Series GTX 970

ASUS Radeon R9 Fury X