Assassin's Creed Identity is a bite sized parkour playland
Assassin's Creed Identity is going to bring the full spirit of the franchise to an iOS device near you. And your questions are answered.
Published Fri, Feb 5 2016 1:04 PM CST
|
Updated Tue, Nov 3 2020 12:01 PM CST
The first video showing off footage from Ubisoft's upcoming foray into the mobile world with Assassin's Creed Identity has been released. They wanted to address some fan questions about the game and how they were going to handle the limiting mobile aspect. The graphics alone are quite impressive, however.
On the surface it essentially looks like it's merely Assassin's Creed II for iOS. They'e calling it a new experience, with a more open and RPG-type game with "bite-sized chunks" that can be played more casually. Ubisoft wants to appeal to both hardcore Assassin's Creed fans and new prospective junkies as well.
The controls are actually looking to be fairly neat, with the ability to play the entire game with one finger, and quite effectively, as shown at least. Something that's not easy to get right on a mobile device. The graphics are similarly downgraded, but it actually looks quite good.
Take a look at the above video to have all your questions answered about the upcoming mobile game. Assassin's Creed Identity will be available on iOS starting on February 25. It'll require iOS 7 and an iPad 3 (or later model) or an iPhone 5 (or later model).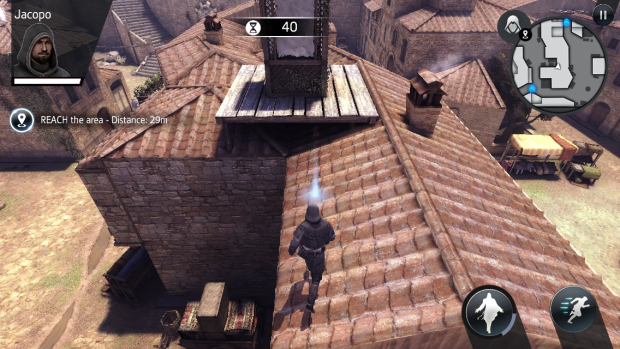 Related Tags