Smartphone sensor can 3D map your food, count its calories
A novel laser sensor can count calories of food items it scans for you. No more weighing and painstakingly looking up each ingredient.
Published Wed, Jan 20 2016 11:03 AM CST
|
Updated Tue, Nov 3 2020 12:01 PM CST
The University of Washington has come up with a much better way to count calories than we've traditionally done it, by using lasers to 3D map your food and count it's calories with science.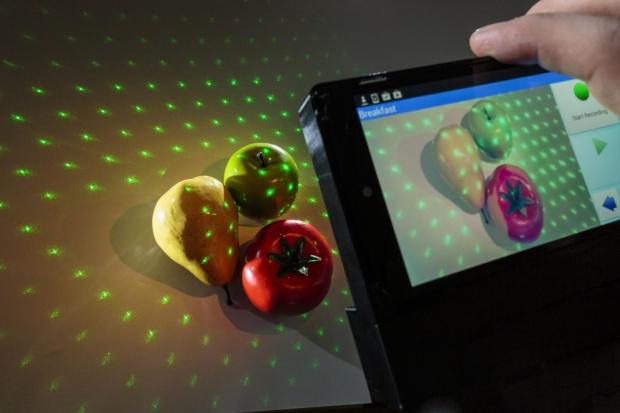 Well, there are other ways to count calories. You could separate all the ingredients, weight them and then look up their corresponding calories online somewhere. Or you could take whatever you're eating to a lab and stick into an actual calorimeter, but that's just too hardcore. This solution uses an external accessory that connects to a smartphone that takes precise measurements of the food, cross-checks in from a database within the app they've designed and estimates, based on the volume, exactly what you're eating.
The gadget created by a crew of electrical engineers at the University of Washington is called the NutriRay3D and currently recognizes around 9,000 different types of food. And can estimate nutritional content, macro-nutrients as well, of those foods with an accuracy between 87.5-91%. Not too shabby.
At the moment they have an Indigogo campaign to help realize their idea fully. And of course they're collaborating with other departments with the University of Washington to ensure that the sensors employed are as accurate as possible. This laser-mapping tech was actually originally developed to help assist in cancer research, letting researchers look at the link between food and disease.
Apparently, and I agree, we humans are less than diligent and not so accurate when counting calories. Unless we're obsessive about our methods, we tend towards lower numbers than what's actually there. One of the researchers on this project, Sep Makhsous, said that "...estimating these portion sizes is where average people and other calorie counting methods often fall short."
Related Tags