Ubisoft has confirmed that the upcoming open-world caveman action game Far Cry Primal won't feature co-op or multiplayer, and will instead be entirely focused on story-driven gameplay.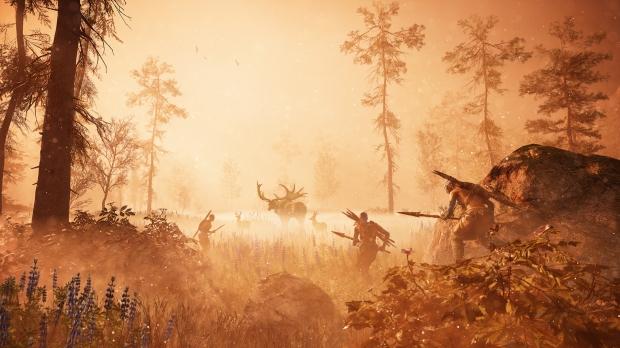 "We are focusing entirely on creating the best possible Far Cry experience for our fans. Bringing the Stone Age to life and providing players with a strong gameplay experience based off of the Far Cry legacy meant we had to reinvent our core gameplay loop. This was definitely not a small undertaking. Our focus was on delivering this fantasy which required clear priorities for the team. Therefore, in the early stages of the project, we made the difficult choice of focusing our efforts on the single player experience," an Ubisoft developer wrote on Steam.
Personally, I'm torn by this news. When Far Cry Primal was unveiled, I had a clear image of hunting a mighty mastodon with a team of online friends in order to feed the rest of the tribe. Other scenarios whirled in my mind--taking on a streak of vicious sabertooth tigers, or even going dino-hunting just like ARK: Survival Evolved. Sadly these fantasies won't manifest.
At the same time, it's great to see Ubisoft nix multiplayer. Now the devs can purely focus all of their efforts into the singleplayer experience and tell an incredibly unique story tinged with Stone Age fantasy. We probably won't actually see any sword and sorcery elements, but Far Cry Primal is indeed fantasy--it's something that I've wanted to see for a long, long time, and I hope Ubisoft can pull off an immersive story arc that folds in the prehistoric landscape.
As Ubisoft created an actual speak-able language for the game, it's fair to say that the team is quite invested in the project. The devs are also excited to create something entirely new within the Far Cry franchise, calling the experience "refreshing" and saying it has a "surprising" setup.
While we're still not sure how the game will turn out, we do know that Far Cry Primal will be brutally violent. Apparently the Stone Age is a dangerous place. Who knew?
Far Cry Primal is slated to release on February 23 on Xbox One and PS4, with the PC version coming later in March.