Boy opens PS4 on XMAS, finds a block of wood with a dick on it instead
What would you do if you opened your PS4 on Christmas to only find a block of wood with a dick drawn on it instead?

Published Sun, Dec 27 2015 10:32 PM CST
|
Updated Tue, Nov 3 2020 12:02 PM CST
It's Christmas morning, and you see a box under the tree wrapped immaculately. You grab it, and feel the weight - you guesstimate that this could be what you've asked Santa for: a PS4. You open the box, and yes! It's a PS4! You tear the box that the PS4 comes in apart, and to your utter disappointment, inside there is just a block of wood - but with an upside, there's a dick drawn on the box.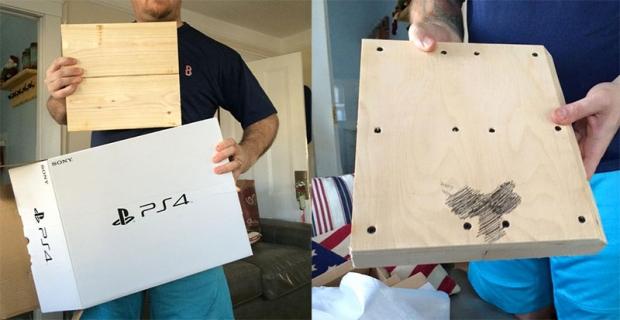 Yeah, that was 9-year-old Scott Lundy's XMAS morning in a nutshell. Boston's Fox 25 reports that Lundy shouted "YES THIS IS THE BEST CHRISTMAS EVER DAD CAN WE SET THIS UP NOW?" But after opening the box for the PS4, the 9-year-old discovered that there was just a block of wood shaped like a PS4 inside, and his parents Kristin and Brian saw that there was a dick drawn on the box, with the message "From cock and balls with love".
Scott's step-mother, Kristin, said: "He's crying and he's upset and he's in the playroom by himself and he just wants to be alone so at that point. I was crushed". The Lundy's returned the package back to Saugus Target, where they had purchased it from, with the company giving them a $100 gift card and a free copy of The Uncharted Collection. Kristin posted on Facebook not long after, saying "This has ruined his belief in Santa".
Related Tags