Rock Band VR announced for the Oculus Rift
Oculus wants you to 'feel like a rockstar' with Rock Band VR.

Published Fri, Dec 4 2015 9:00 AM CST
|
Updated Tue, Nov 3 2020 12:02 PM CST
Oculus VR teased that a "special announcement" was planned for The Game Awards 2015, leading many to believe that a release date for the Oculus Rift was finally coming. Instead of revealing a launch date for its VR headset, Oculus VR opened the door for a new kind of immersive experience to bolster its virtual reality hardware.
Oculus founder and VR pioneer Palmer Luckey revealed that Rock Band will be making the jump to virtual reality, bringing the explosive thrill of on-stage rockshows to millions of gamers worldwide. Oculus teamed up with Harmonix, the studio behind the Rock Band games, and hired real-life bands like Dragonforce to help make the game as authentic as possible.
The trailer reveal was vague in terms of actual gameplay mechanics, but it looks as if Rock Band VR will realistically merge actual guitar playing with virtualized play, so the on-screen queues might not show up. It'll be interesting to see how Rock Band VR actually works, and if it can avoid the semi-nauseating "VR sickness" which stands as a major roadblock for the new platform.
Specifics and full details haven't yet been revealed, but it looks like Rock Band VR will have special sensors equipped to guitar controllers, which might mean older controllers might be compatible. Rock Band VR will be exclusive to the Oculus Rift and release in 2016. The Oculus Rift is expected to release in Q1 2016 with a "north of $350" price point. For more on the Oculus Rift, be sure to check our past coverage.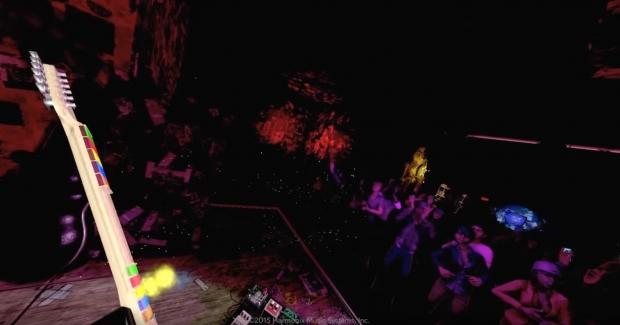 Related Tags