Halo PC is finally happening, and Microsoft has nothing to do with it
A group of fans are making every Halo fan's dream a reality: a competent, modern Halo game on PC.
Published
2 minutes & 23 seconds read time
Imagine a Halo game that's totally free of 343 Industries' awkward influence; no bizarre story arcs, no filler, no clunky mechanics and best of all, no terrible team AI. Sounds like heaven, doesn't it? Well it gets better: imagine all of that on PC. As Microsoft has absolutely no interest in making a new Halo game on the PC front (the "Russian-only" Halo Online doesn't officially count) and instead uses the franchise as a selling point for the Xbox One, a group of dedicated fans are making their dream Halo PC game.
The fan-made project is called Installation 01, and is being developed legally under Microsoft's Fair Use Policy. Installation 01 is being created from scratch via Unity 5.2, and the team plans to feature a unique blend of Halo CE, Halo 2 and Halo 3 features and weapons while incorporating an "intricate storyline for lore-lovers" to boot. Installation 01 will have all the modes we know and love: Campaign, Firefight (yes!), Multiplayer modes like CTF, King of the Hill and Big Team Battle, as well as Forge.
"Installation 01 is a PC-exclusive Halo game that will be 100% free-to-play. Our goal is to deliver a true Halo experience on the PC platform that will be accessible to as many people as possible," reads a description on Halo Waypoint. "The game is extremely early in development, so there aren't many details I can share with you. But you can expect me to update you along the way. A public beta is planned for the future. Date undetermined. Truthfully, this game is made FOR the fans. Our 19-man team is extremely talented and dedicated, and are making this game with a unified love of Halo."
Installation 01 is very much a work in progress, and there's no defined release date. For a complete indie-based project, I have to say that the game looks pretty good and seems to run smoothly, but it's far from finished. The team is actually recruiting new members, so if you're well-versed in programming and games development, be sure to check it out. It'll be interesting to see if fans can create a better Halo game than 343 Industries, and if the same veneer can be returned to the mighty series.
For more information on Installation 01, be sure to check the Halo Waypoint info page, the Unity post, and the official YouTube page.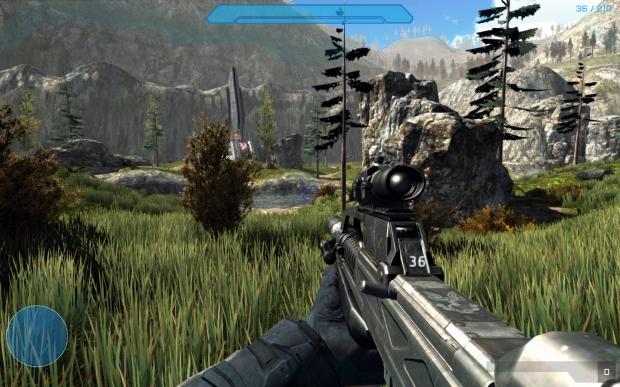 Related Tags