Xbox One's new button mapping feature is actually quite limited
All Xbox One controllers can now be customized, but the feature comes with a few limitations.

Published Wed, Nov 18 2015 6:49 PM CST
|
Updated Tue, Nov 3 2020 12:03 PM CST
Microsoft has made good on its promise to bring customized button-mapping to all Xbox One controllers, adding a new level of interaction to the platform. The Xbox community requested the feature as part of the feedback program, and Redmond decided to cater to its fans and roll it out to the console. But as most Xbox fans already know, any good Xbox One news is accompanied by the inevitable bad news disappointments.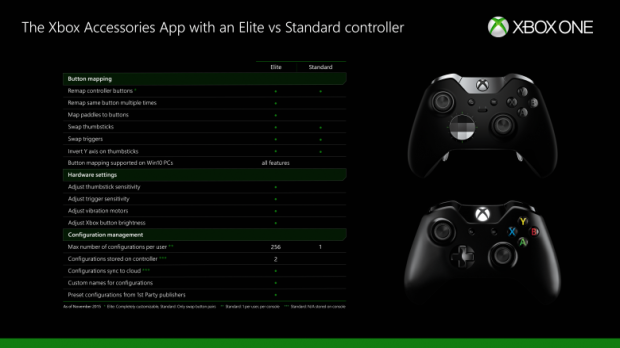 The button mapping appears to be universal for all Xbox One games; rather than having different control schemes on a game-by-game basis, it's a hard preset that games will recognize, meaning you won't have to reconfigure anything in-game. Being able to map your control scheme is a nice addition as it lets players change things up and universally tune up their controls to funky settings. The mapping feature also returns functionality to those controllers with broken buttons. Thankfully, we can now swap out the horrible analog-breaking sprinting control for games like Destiny and assign it to something less destructive.
Unfortunately, this feature has a caveat, just like nearly every functionality on the Xbox One. You can customize every in-game button but the left and right triggers, which can only be swapped. Games like Halo 5 already let you swap out different controller presets, but if you were hoping to use the left or right triggers to do something different, then you're out of luck.
Also, you'll notice that the basic controllers can only swap button pairs. "For example, if you choose to map LB to X, then X is automatically mapped to LB," Major Nelson explains. "This maintains that all buttons are always mapped on a standard controller."
The super expensive Xbox One Elite Controller, on the other hand, lets users completely customize their button mappings rather than just swapping button pairs. So yeah, there's an actual need for the Elite Controller if you care about this kind of thing. We didn't expect Microsoft to outclass its $150 controller with a standard device, did we? I just realized that the Elite Controller costs literally half as much as the actual console during Black Friday sales. Make of that what you will.
Since the new Xbox One UI changes are just as awkward to navigate as the original interface, here's a quick rundown on how to access the button mapping screen. I would have taken screenshots, but you still can't take screenshots of the settings or home menu on the Xbox One.
At the home screen, press Left on the D-Pad to bring up the Quick Launch menu

Access Settings at the bottom. It's in the shape of a cog and is right above Snap Mode

Settings -> Kinect & Devices -> Devices & Accessories

Select Xbox One Controller

Choose Button mapping at the bottom
Related Tags