Up until now, Microsoft has reserved its customized NVIDIA GPU configuration to the more expensive Surface Book models, meaning the budget tier was locked out. But now the catalogue has been updated and Microsoft now offers dGPU options to every Surface Book make and model--for a price.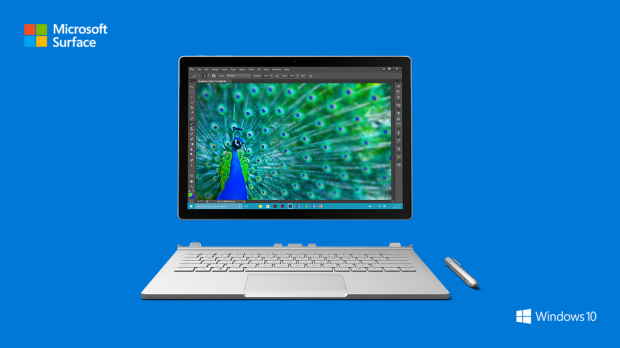 If you plan to opt in for the dual-GPU solution for the Windows 10-powered laptop, Microsoft tacks on an extra $200 to the retail price. $200 might sound like a lot, but the difference is pretty substantial: default Surface Book models come equipped with Intel's integrated Iris Graphics, and the extra cash will unlock a second graphics solution, a custom Maxwell-based NVIDIA GPU that will enable more graphically-intense workloads.
Equipped with the second dGPU in the keyboard base, the budget Surface Book with a Skylake Intel Core i5 CPU, 8GB RAM and a 128GB HDD now rises to $1,699. We've reported that the Surface Book's custom NVIDIA GPU is actually equal to a GeForce 940M with 1GB of GDDR5 VRAM.
"The new GPU is a Maxwell-based GPU, and was designed to deliver the best performance in ultra-thin form factors such as the Surface Book keyboard dock," NVIDIA told Gizmodo, before the GPU was revealed. "With NVIDIA GeForce GPU powering this new hybrid, users will be able to speed up productivity apps such as Adobe Illustrator and Lightroom, and light PC gaming."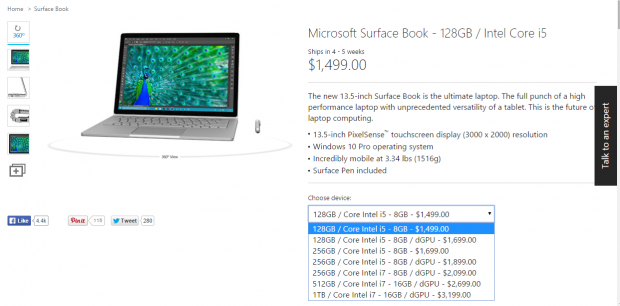 Coupled with the software and functionality powerhouse that is Windows 10 and the capability of running a slew of apps thanks to 8GB of RAM and the dual-GPU setup, even the base Surface Book model is worth its cost...that is if you're looking for a practical, portable and potent work computer.
Bear in mind that the screen will need to be docked in the keyboard base in order to leverage the extra NVIDIA GPU. The detachable 13.5-inch tablet-like touchscreen houses Intel Iris graphics by default, so it won't be able to hit the same performance values as when it's docked.
According to a number of reviews that have poured in, the Surface Book is easily able to replace your current laptop, with some calling it the "ultimate laptop" despite its flaws. While it's a little pricey, the device has strong software with the interconnectivity of Microsoft's Windows 10 ecosystem, and strong hardware with the dual-GPU setup and decent RAM.
The real powerhouse comes with the $2699 models (the 1TB flavor is just exorbitant), but those are made for considerable workloads across the board.