Another free-to-play FPS is coming, but this one is a little different
Hi-Rez Studios is releasing PALADINS, a team-based FPS with cards, mounts and a ton of unique features to ensure a different gaming experience.
Published Thu, Sep 24 2015 8:31 AM CDT
|
Updated Tue, Nov 3 2020 12:03 PM CST
Hi-Rez Studios is known for being the makers of popular games like SMITE and Tribes, often going down the free-to-play route and sometimes allowing users to play all characters without paying real-life money or spending horrendous amounts of hours grinding away. This new title to come to the table is called PALADINS: Champions of the Realm and it's a fully-unlocked free-to-play team-based FPS.
If you watch the video above, the first thing that sticks out is the ability to use mounts in an FPS game which is pretty damn neat, what else is cool is that it's going to be at TwitchCon this weekend, free for anyone to try out. The Early Access waiting pool is now open for signups, with this set to kick off "later this year" as pointed out in a recent press release.
What makes this game truly different is the use of power up cards, enhancing each characters abilities and allowing for a chop and change menu between the three you currently have active, depending on your needs. For more information on this, watch the video above.
Set for release on PC predominantly, Hi-Rez says that current-generation consoles will also be able to join in on the action.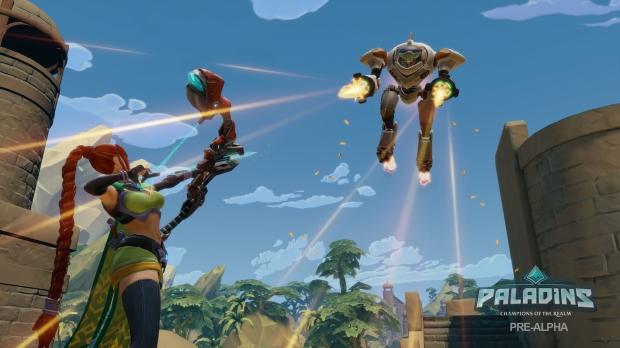 Related Tags