Bethesda: Fallout 4 feels like a modern shooter
The renowned FPS masters at id Software helped Bethesda craft Fallout 4's fluid gunplay.

Published Thu, Sep 17 2015 1:00 PM CDT
|
Updated Tue, Nov 3 2020 12:03 PM CST
Fallout 4 has been built from the ground-up as a layered experience with deep customization and RPG elements, but Bethesda has also made some significant strides in the action department with the help of FPS masters at id Software.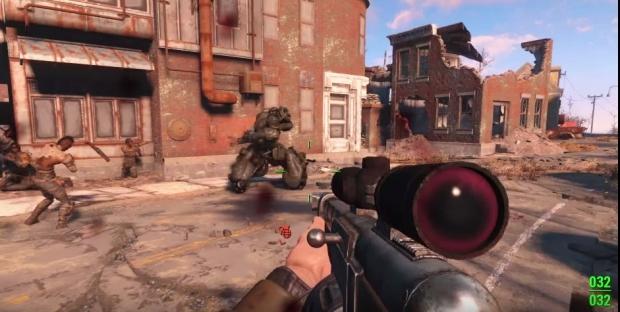 "If you were to pick it up and play it, it does feel like a modern shooter," Bethsoft exec Todd Howard said in an onstage interview. "The guns feel great and you can aim down the sights...you can play it in first-person, or third-person and then we also have VATS. Since id Software was part of our company the first thing we did was call them and said 'we're going to do this from scratch, so give us some tips.'"
Usually in multi-faceted RPGs there's more emphasis on level-ups and skill trees rather than the gunplay, but Bethesda wanted the whole package for Fallout 4: deep character customization, a huge webwork of skills and perks, a massive crafting system and smooth, fluid firefights. "We didn't want to [compromise] the game's action because it's a role-playing game. We felt we could do this and layer the game's stat system ontop of that--let's have our cake and eat it too."
Based on the snippets of gameplay shown in the video I'd say that Todd Howard delivers an apt description of Fallout 4's shooter attributes. All of the weapons react smoothly and the transitions between first-, third-person, and VATS are all seamless. It's interesting to see a Fallout game evolve into a fully-fledged FPS and it'll be great to try it out when it releases in just two months time.
Fallout 4 is scheduled to release on November 10, 2015 across PlayStation 4, Xbox One and PC with mod support coming in 2016.
Related Tags