VisionTek showcases extreme AMD involvement, Fury X, R7 300, R9 300
VisionTek announces its AMD Radeon R9 Fury X, R9 300 and R7 300 series video cards in one hit.
Published Thu, Jun 25 2015 8:34 AM CDT
|
Updated Tue, Nov 3 2020 12:06 PM CST
If you're thinking about upgrading, maybe now is the time as VisionTek announces its launch of a Radeon R9 Fury X card alongside the R9 300 and R7 300 series - all made available from June 24th 2015.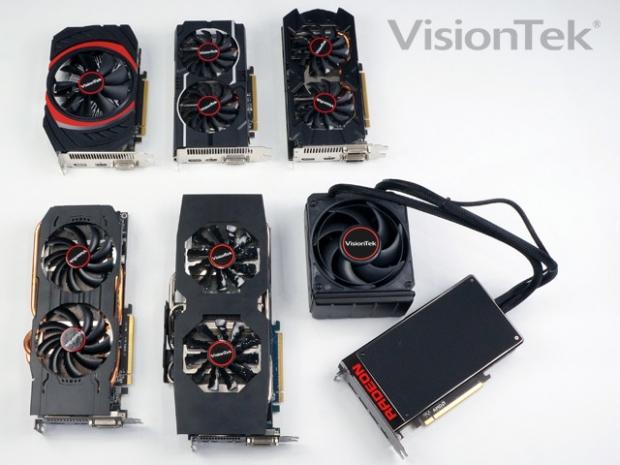 Michael Innes, President of VisionTek is excited for this release, stating in a recent press release that "We are focused on alignment with PC Gamers and are excited to announce the new features embedded in AMD's Fury X design." Also interested in the advancement of Virtual Reality, Innes continued "We believe Virtual Reality will transform the way we experience and interact with our PC. We are embarking on a new universe of entertainment and the new VisionTek AMD powered cards create the required platform for launch."
Offering LiquidVR Technology, Freesync Technology and Virtual Super Resolution, these cards by VisionTek cater towards 1440p and 1080p gaming situations and all feature a similar styling scheme, brandishing a mainly-black color outlay with hints of red.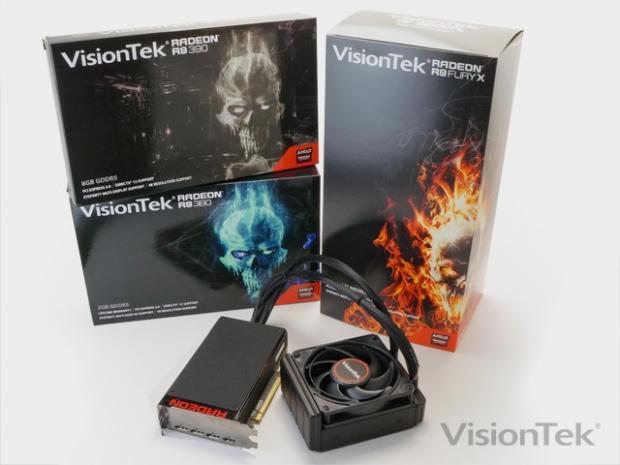 The full specifications of the cards on offer are as follows:
VisionTek Radeon R9 Fury X
Graphics Engine: Radeon R9 Fury X

Core Speed: up to 1050MHz

Video Memory: 4GB HBM

Memory Interface: 4096-bit

Memory Speed: 500MHz
VisionTek Radeon R9 390X
Graphics Engine: Radeon R9 390X

Core Speed: Up to 1050MHz

Video Memory: 8GB GDDR5

Memory Interface: 512-bit

Memory Speed: 1500MHz (6Gb/s)
VisionTek Radeon R9 390
Graphics Engine: Radeon R9 390

Core Speed: Up to 1000MHz

Video Memory: 8GB GDDR5

Memory Interface: 512-bit

Memory Speed: 1500MHz (6Gb/s)
VisionTek Radeon R9 380
Graphics Engine: Radeon R9 380

Core Speed: Up to 970MHz

Video Memory: 2GB GDDR5

Memory Interface: 256-bit

Memory Speed: 1375MHz x4 (5.5Gb/s)
VisionTek Radeon R7 370
Graphics Engine: Radeon R7 370

Core Speed: 975MHz

Video Memory: 2GB GDDR5

Memory Interface: 256-bit

Memory Speed: 1425MHz x4 (5.7Gb/s)
VisionTek Radeon R7 360
Graphics Engine: Radeon R7 360

Core Speed: 1050MHz

Video Memory: 2GB GDDR5

Memory Interface: 128-bit

Memory Speed: 1625MHz x4 (7Gb/s)
Related Tags