Techland, the developer behind Dying Light, has announced a special edition of the game that costs an insane $386,000. Yes, nearly half a million dollars for a video game.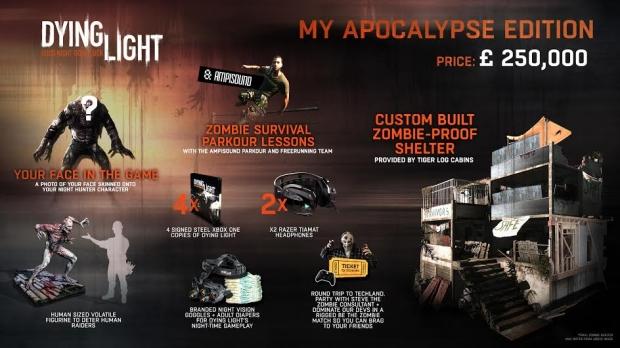 The My Apocalypse Collectors Edition costs $386,000 but includes a real-world zombie-proof shelter, a round trip package to visit the Techland studio in Poland, night vision goggles, parkour lessons, Razer Tiamat headphones, and much more. Techland will be offering up just a single version of the My Apocalypse Collectors Edition, which is available exclusively through UK retailer GAME.
At least for that $386,000 you're getting a real-world "zombie apocalypse-proofed house" that Tiger Log Cabins will build for you. The zombie-proof house will come with some bells and whistles, including live-in amenities, as well as a TV, Xbox One and a sound system.