AMD Radeon R9 390X limited to 4GB of VRAM because of HBM limitations?
Could the first generation of HBM memory limit the Radeon R9 390X to just 4GB of VRAM?

Published Tue, Feb 24 2015 8:35 PM CST
|
Updated Tue, Nov 3 2020 12:09 PM CST
With the release of AMD's Radeon 300 series right around the corner, and the tease of its upcoming Fiji-based Radeon R9 390X flagship video card, it's time to start speculating on what we can expect in regards to VRAM on the new GPUs.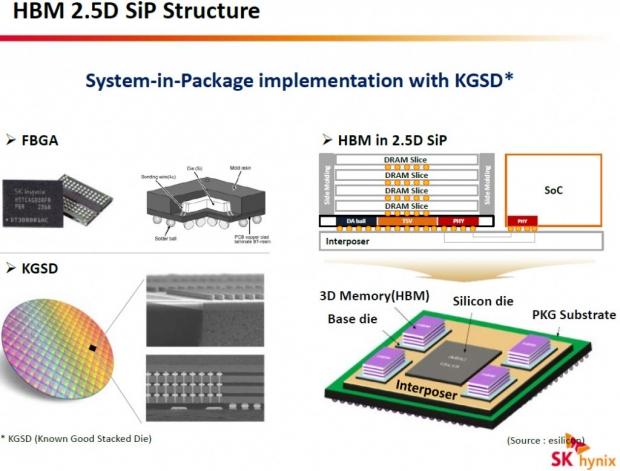 We have heard that AMD will be using High Bandwidth Memory, or HBM, on the flagship R9 390X. A report over at Fudzilla points out that AMD is using something called 2.5D-IC silicon interposer, which will see "two separate chips on the same silicon interposer and package substrate". AMD is baking this onto a PCB on the 28nm process, but there will be two products on offer. One without HBM, and the other with HBM.
HBM 1.0 is currently limited to 1GB per stack configured as 4 x 2Gb layers for a total of 4GB of VRAM, which should raise some very serious questions. Throwing to the side memory bandwidth and the node AMD chooses to use (with all signs pointing to 28nm), a limit of 4GB of VRAM could hurt the company with the first new GPU it has released in over 18 months. Considering the issues NVIDIA has been going through with its GTX 970 and "4GB" of VRAM argument, AMD have the opportunity to really drive home the VRAM argument.
But, SK Hynix (the company behind HBM) has made its 1GB, 128GB/sec with 1.0Gbps speed packaged in 5mKGSD available as of last month. These chips are deliciously fast, and much more power efficient as they only require just 1.2V of power, compared to GDDR5 and its 1.5V. What can AMD do here? It seems as though they are stuck at 4GB with nowhere to go, unless they do something different - like a hybrid system.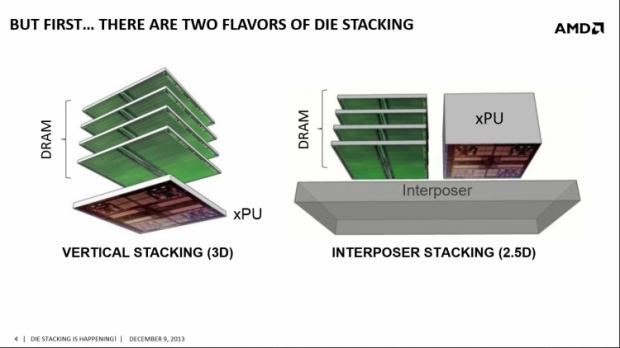 A hybrid system sounds good, but with HBM capable of insane bandwidth exceeding anything GDDR5 can even think of providing, it will be tricky - and next to impossible for AMD to pull off without many strings attached.
Fiji, AMD's upcoming flagship GPU, according to Fudzilla cannot have "more than four memory chips on the interposer" which will see the Fiji-based Radeon R9 390X limited to 4GB of VRAM. Faud says "we don't think 8GB HBM Fiji will happen with this generation, but with time Hynix will come with more dense HBM memory chips making 8GB 2.5 D cards possible".
This could lead AMD to using a hybrid system that would see 4GB of HBM on the interposer, mixed with another amount of GDDR5 RAM. This would work, but it would require something we've never seen before, on a totally new GPU, using totally new HBM memory that has never been used on a video card. This unknown and speculated hybrid memory system would work, but communication between the two memory systems would be slower than having 8GB in total sitting on the HBM controller.
AMD could do something interesting and allow the 4GB of HBM memory to be 'filled up' first, with anything after that spilling into the second GDDR5-based memory. This is total speculation and guess work on my part after thinking on it more after reading Fudzilla's report on it, but a hybrid memory system could be interesting. I don't think AMD could pull it off without losing some key areas on the R9 390X, but it would be interesting nonetheless. This way would result in a situation that NVIDIA has found itself in with the GTX 970 and its 4GB of VRAM, with the first 3.5GB of VRAM providing the usual high speeds, but the remaining 0.5GB is slower to access.
Alternatively, AMD could release two cards: a HBM-based R9 390X with 4GB of RAM, and a GDDR5-based R9 390X. This would be another interesting move, but much harder to market to the masses. HBM 2.0 is coming, which will provide access to 8GB of VRAM and beyond, but that's not coming until the second half of 2016.
This is all without taking into consideration NVIDIA's upcoming Pascal architecture, which will be using 3D Memory. We should see NVIDIA reveal more details on this later this year, with a GPU based on the Pascal architecture arriving sometime in 2016.
AMD is poised to launch its Radeon R9 390X sometime in the next 4-6 weeks, or at the latest sometime before the end of Q2 2015.
Related Tags