Apple boss Tim Cook earned a nice $9.3 million in 2014
Apple CEO Tim Cook's compensation was $9.22 million for 2014, with his salary reaching $1.7 million.

Published Fri, Jan 23 2015 12:35 AM CST
|
Updated Tue, Nov 3 2020 12:10 PM CST
Just how much did Apple's CEO make last year? Well, according to a newly released SEC filing, Tim Cook made $9.22 million last year. Breaking these figures down, we have a salary of $1.7 million, and non-equity incentive compensation of $6.7 million. This is close to double the $4.3 million in compensation he raked in across 2013.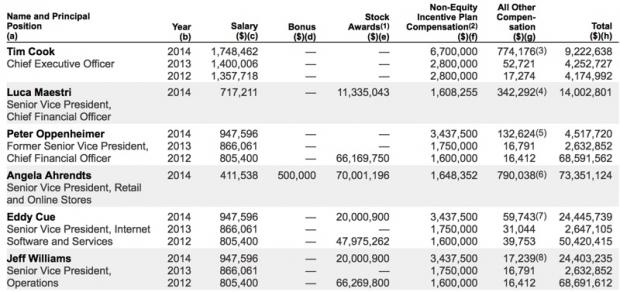 Cook didn't make that much when it came to other staff, with Apple's latest hire, Angela Ahrendts, securing herself a very nice $73 million in cash and stock over 2014. This included a $400,000 salary, $500,000 bonus and $70 million in stock. Ahrendts joined Apple in May of 2014, after making $37 million at Burberry.
These wages can be watered down thanks to the huge $182.8 billion in sales that Apple generated over 2014, with $38.5 billion in net income for fiscal 2014. This is a new record for the company, and during its latest forecast, Apple expects to make between $63.5 billion and $66.5 billion for Q1 2015.
Related Tags