Intel announces 3D NAND design
Intel announces the densest 3D NAND design on the market.
Published Fri, Nov 21 2014 2:55 PM CST
|
Updated Tue, Nov 3 2020 12:13 PM CST
Rob Crooke, the Vice President and General Manager of the NVM (Non-Volatile Memory) Solutions Group at Intel, announced the impending release of 3D NAND at Intel's Investor Meeting. Incidentally, the presentation was running on an Intel 3D NAND SSD to demonstrate the progress Intel has already made in integrating their new 3D NAND into a workable device. The launch was a bit light on technical details of the new 3D NAND, but now that images from the presentation are available we are posting more information.

The first Intel SSD was developed in 1992 and featured a whopping 12MB capacity, and continued die shrinks have led to 128Gb dies. The transition to mainstream Intel SSDs began in 2008, and the initial revisions utilized 2D planar NAND. The continued path of NAND development has led to denser designs that sped adoption by lowering the cost per bit. Samsung released the first 3D NAND product in 2014 with 128Gb of density, and Intel's 3D NAND is slated for release in 2015.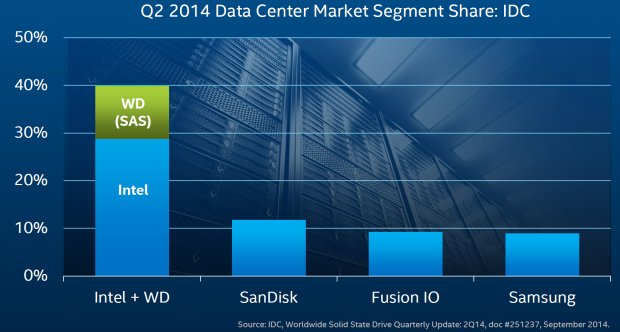 Intel helped pioneer the SSD market, and their continued innovation has led to a huge chunk of SSD data center market share. These statistics reflect the current market share of major industry SSD manufacturers. The chart is incomplete and only lists two competitors with NAND fabrication capability. Intel includes the market share of the WD subsidiary HGST in their overall market share numbers due to the HGST and Intel JDA (Joint Development Agreement). The JDA provides Intel NAND to HGST, and in turn HGST collaborates on engineering and manufactures the SAS SSD products.
Micron and Intel produce NAND together in their IMFT (Intel-Micron Flash Technologies) partnership, and Micron's market share is not listed. Toshiba is another fab-enabled competitor not present on the chart, in spite of their recent increase in market share. Toshiba is aggressively pushing further into the datacenter and has publicly disclosed their intention to capture 30% market share by 2016. SanDisk recently acquired Fusion-IO, so the SanDisk and Fusion-io categories of this chart actually need to be combined to get an accurate picture of their market share. SanDisk, according to IDC data, currently has the second largest market share, and SanDisk is also aggressively moving on several fronts to increase their market share. Samsung already has 3D NAND products shipping, but their market penetration lags behind the other competitors on the chart. Intel notes that in spite of the heated competition, they still control twice as much of the data center market as their nearest competitor.

Current planar (2D) NAND spreads bits in a checkerboard fashion, but 3D NAND spreads bits out into tube-like structures. Intel's implementation features over 4 billion tubes. Micron is producing Intel's 3D NAND, which offers a whopping increase in density to 256Gb for MLC NAND. Intel has indicated they can also produce the NAND at their own factories, but has no impending plans to do so. Intel also revealed they have relaxed the lithography of the new 3D NAND, but did not provide specifics. By moving back to a larger process Intel will be leveraging an existing process with good yields to begin the transition to 3D NAND. Most industry insiders speculate that Intel is likely 3xnm (30-39nm). The 32-layer design will also provide up to 384Gb of density with 3D TLC NAND. The new 3D NAND will be produced at the IMFT Lehi, Utah facility, which currently manufactures over 20,000 300mm planar NAND wafers per week.
Samsung is the only manufacturer currently shipping 3D NAND with 24 and 32-layer designs. Samsung's 24 layer design features 128Gb die, and the 32-layer NAND features 86Gb die. Samsung has new versions of their 3D V-NAND in the works, but once Intel begins shipping their 256Gb product in 2015 they will have the density advantage. Density equates to lower production costs, which will serve to provide lower prices overall. 3D NAND, in general, features much more endurance and lower power consumption than its planar counterpart. All of the major NAND fabricators have 3D NAND designs that are working their way to market.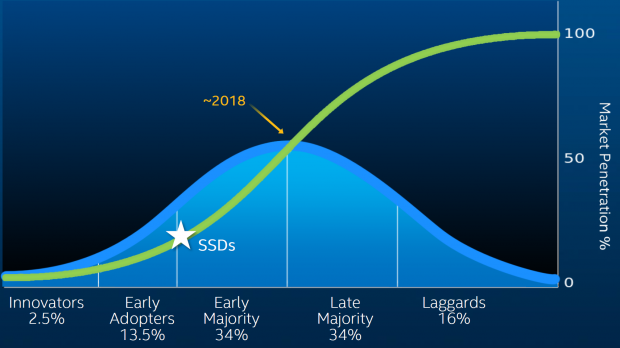 SSD market penetration is still in the early stages. In spite of its relatively low market percentage, the market has expanded from a few hundred thousand dollars in 2008 to $13 billion dollars today. 3D NAND designs will enable stunning capacities, up to 1TB of storage in a 2mm thick package, which will speed the adoption curve as prices lower and capacity increases.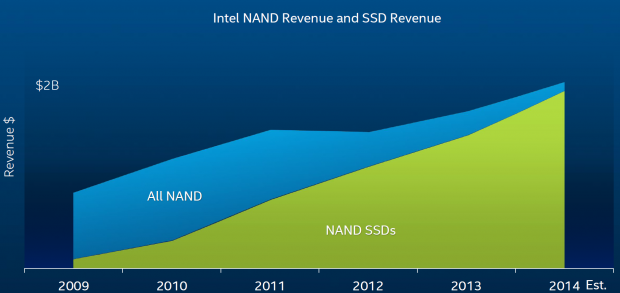 Intel initially focused on selling NAND to the open market to spread the technology and gain market share. Intel is increasingly moving their focus from selling NAND on the open market to providing complete SSD solutions.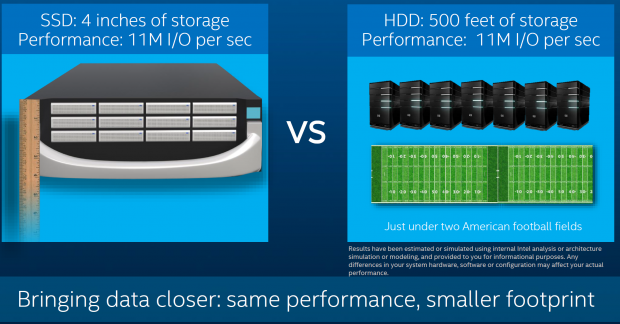 Intel projects their 3D NAND will enable SSDs with 10TB of capacity in the near future. This remarkable density increase provides tremendous performance advantages. To match the speed of a 4-inch thick rack it would take 500 feet of datacenter floor space with typical HDD products. HDDs will continue to have a huge place in the datacenter due to the lower cost per gigabyte, but from a performance standpoint SSDs are untouchable. The move to NVMe, an optimized interface designed specifically for non-volatile memory (covered in our Defining NVMe article), will serve to widen the huge gulf between HDD and SSD performance.
Intel isn't stating where the new 3D NAND will make its debut, but precedent dictates they will likely release the first 3D NAND products into the datacenter. Micron will presumably offer products based on the same NAND, and with Toshiba and SK Hynix due to release products next year the NAND market is heating up with new designs that promise more endurance, lower power consumption, and increased performance.
Related Tags