Diablo Technologies displays SanDisk ULLtraDIMMS at Open Server Summit
Diablo Technologies displays revolutionary ULLtraDIMM DDR3 SSD technology at Open Server Summit 2014.
Published Thu, Nov 13 2014 10:52 AM CST
|
Updated Tue, Nov 3 2020 12:13 PM CST
Open Server Summit 2014 focuses on next-generation server designs that leverage industry-standard hardware and open-source software. The show is a great place to view future server technology, which makes it the perfect venue for displaying the Diablo MCS (Memory Channel Storage) architecture at work on the SanDisk ULLtraDIMM. The SanDisk ULLtraDIMM DDR3 SSD brings latency as low as five microseconds by sidestepping the traditional storage stack, and communicating via the DDR3 bus. This reduces cabling, complexity, and components required for typical storage deployments.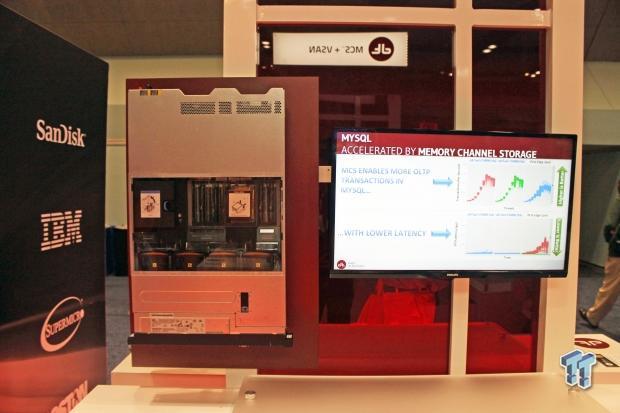 The slim form factor, which takes advantage of the existing memory subsystem, will enable radical new server designs, particularly in the blade and microserver segment. The hardware consists of a JEDEC-compliant ULLtraDIMM that presents itself as a block storage device with 200 or 400GB of capacity. The ULLtraDIMM utilizes two Marvell 88SS9187 controllers running the Guardian Technology Platform to increase endurance and reliability. This tandem delivers random read/write performance of 140,000/40,000 IOPS, and sequential read/write speeds up to 880/600 MB/s. Ten DWPD (Drive Writes Per Day) of endurance, and a five-year warranty (or TBW) are provided by SanDisk 19nm eMLC NAND.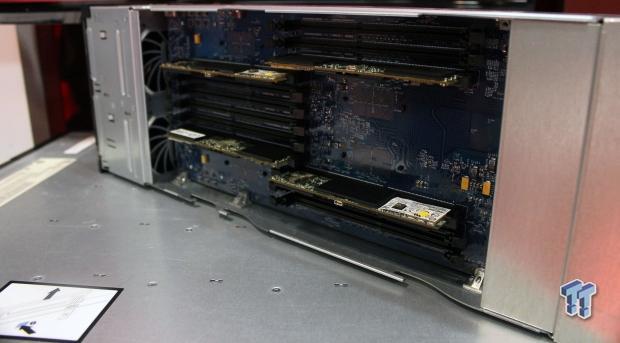 The real genius of the ULLtraDIMM design is its enhanced parallelism. Stacking several devices in parallel unlocks key performance advantages that will challenge even the fastest datacenter-class PCIe SSDs. We recently had a chance to take an in-depth look at the ULLtraDIMM and post our independent third party testing results in the SanDisk ULLtraDIMM DDR3 400GB SSD Enterprise Review. Head over to the PCIe category in our IT/Datacenter section for a look at competing PCIe devices.
Related Tags