NVIDIA releases the GeForce GTX 980, its most advanced GPU at $549
NVIDIA releases its GeForce GTX 980, built on its Maxwell architecture, we have the most powerful GPU available.

Published Thu, Sep 18 2014 9:30 PM CDT
|
Updated Tue, Nov 3 2020 12:14 PM CST
For the past week or so, we have been sitting on the information of NVIDIA's new GeForce 900 series GPUs, with the two latest cards now official: the GeForce GTX 980 (our review is right here), and GeForce GTX 970. NVIDIA is pricing the GTX 900 series very competitively, with the GeForce GTX 980 priced at $549, and the GTX 970 at only $329. These are some incredible price points considering the feature set, improved performance, additional features and reduced TDP. NVIDIA will be discontinuing the GTX 780 and GTX 770, shifting the price of the GTX 760 to just $219.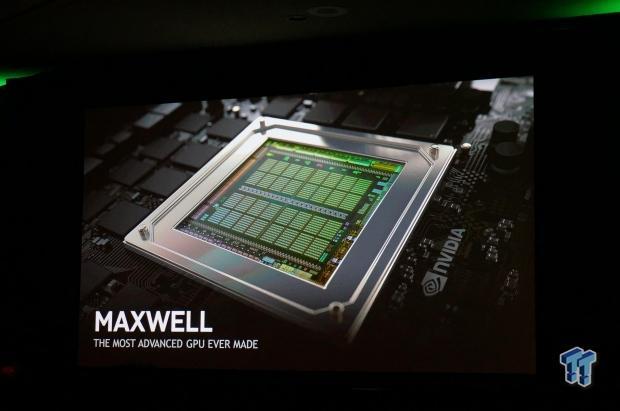 For starters, we have the new Maxwell architecture, which is where NVIDIA is pulling this rabbit from a hat from. NVIDIA has some serious magic from Maxwell, with the star of the show, the GTX 980, really pushing the boundaries of what is possible from a GPU, without requiring a nuclear reactor to power it. For starters, the "GM204" has 5.2 billion transistors, 2048 CUDA cores, 128 Texture Units, 64 ROPS, and a 256-bit wide memory bus with 4GB of GDDR5.
NVIDIA has achieved this huge jump over the GK104 thanks to twice the performance of the GK104 with the GM204, and two times the performance-per-watt over GK104, too. There's an improved schedular, new datapath organization, and over 40% delivered performance per CUDA core on GM204. The memory architecture behind Maxwell has also received an injection of improvement, with enhanced compression algorithms, and enhancing caching effectiveness, and when compared against the GTX 680, we have some big improvements.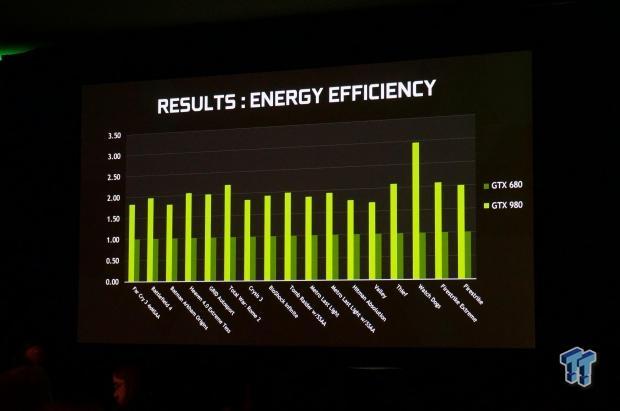 Better yet, the energy efficiency on the new Maxwell-based GTX 980 is unparalleled, with a TDP of just 165W, we have some amazing performance-per-watt. When compared to the GTX 680, the GTX 980 has some serious power efficiency, as shown above.
Another big benefit of the new Maxwell architecture is that NVIDIA is providing a slew of display outputs on the new GeForce GTX 980 and GTX 970 GPUs. We have three DisplayPort 1.2a ports, one HDMI 2.0 port, and a dual-link DVI port. NVIDIA Surround Vision, and NVIDIA G-SYNC Surround is supported, with three DP ports on the single GPU capable of driving the displays. Up to four displays can be connected to a single card, which is a massive jump from previous cards - especially given the number of DisplayPort outputs.
We will be having some serious content on the new GeForce GTX 900 series over the coming weeks, with a massive flood of posts to follow this one, talking about the Editor's Day that NVIDIA held in Monterey Bay, California last week.
Related Tags