Star Citizen blows through the $50 million milestone, isn't slowing
Star Citizen's funding isn't slowing down, with over $51 million raised, the $52 million stretch goal gets closer.

Published Thu, Aug 21 2014 4:27 AM CDT
|
Updated Tue, Nov 3 2020 12:15 PM CST
It wasn't even a month ago that Star Citizen had reached its $48 million funding goal, but now it hasn't just broken through $50 million, but it is half way through $51 million sitting at $21,523,485 at the time of writing.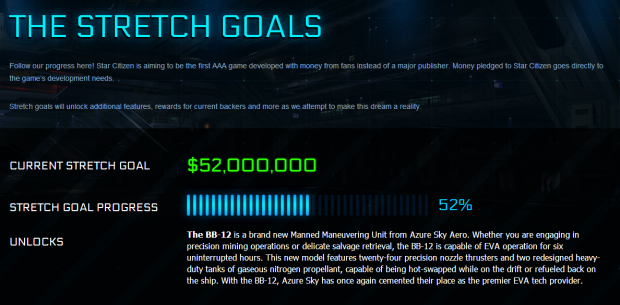 The $50 million milestone unlocked Alien Languages, which will see Star Citizen gamers enjoying alien languages in the game. RSI explains: "Do you speak Banu? We will work with real-world linguists to create distinctive and realistic alien languages for Star Citizen's three biggest alien races, the Vanduul, the Xi'An and the Banu. No universal translators, no garbled animal noises: Star Citizen's aliens will be speaking their own authentic languages!"
When Star Citizen hit $51 million, it saw the Web-based Known Universe Map unlocked, which is "The platform web team priority will be shifted to making the Known Universe Map available." The $52 million goal will be hit without a problem, where we'll see "The BB-12 is a brand new Manned Maneuvering Unit from Azure Sky Aero. Whether you are engaging in precision mining operations or delicate salvage retrieval, the BB-12 is capable of EVA operation for six uninterrupted hours. This new model features twenty-four precision nozzle thrusters and two redesigned heavy-duty tanks of gaseous nitrogen propellant, capable of being hot-swapped while on the drift or refueled back on the ship. With the BB-12, Azure Sky has once again cemented their place as the premier EVA tech provider."
The last goal that is listed is $53 million, which will see the INDEPENDENT ARBITRATOR'S GUILD, RSI says: "Have you been wronged by your superiors? Has the member of your organization entrusted with watching the funds, been watching them go into their own pocket? Think you don't have any recourse? You're wrong. Fully licensed and bonded to work within the UEE and beyond, the Independent Arbitrator's Guild allows citizens (and civilians, we don't discriminate!) to file complaints against (or within) private organizations. Petition cases with our IAG representatives to have your voice heard and restitutions made. Is your business less than legitimate? IAG is only here to judge the matters you want us to. Confidentiality is guaranteed."
Related Tags