US Patent office grants a GPU liquid cooling patent to Asetek
The U.S. Patent and Trademark office awarded a 'thermal interposer liquid cooling' patent designed for video cards to Asetek.
Published Wed, Jul 2 2014 4:02 AM CDT
|
Updated Tue, Nov 3 2020 12:15 PM CST
Asetek made an announcement recently that the U.S. Patent and Trademark office has granted the company a patent on its 'thermal interposer liquid cooling system' design for video cards.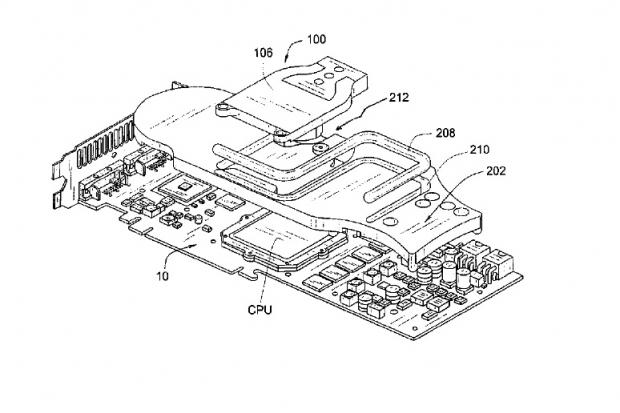 Well before the announcement AMD signed up with Asetek for enabling liquid cooling solutions for its AMD Radeon R9 295X2 GPU with an intention to have lower noise output, lower temperatures and also enhanced cooling in comparison with air cooling counterparts.
The founder and CEO of Asetek said,"As seen in the recently announced AMD Radeon R9 295X2, the graphics cooling market is one that we see as having tremendous growth potential for our desktop business". He continued,"We continue to see increasing interest from GPU and video card manufacturers due to increased power use and demands for lower acoustics. Given this interest, it is possible that the GPU cooling business could rival our CPU cooling business in the coming years."
Asetek adds that the company has been providing its patented sealed all-in-one liquid cooling solutions for video cards for more than ten years. The company also assured that its units are thoroughly tested, and that its certified to operate without any maintenance over 50,000 hours.
Asetek also has patents for closed-loop CPU liquid coolers, and the company used it against many of its competitors. In 2013, Asetek claimed that Coolermaster was infringing two of its patents, specifically 8245764 and 8240362. Swiftech also faced the same issue with Asetek during the same year. In its defense, Swiftech did mention that its CPU cooler did not infringe on any patents. However, to avoid any costly litigation, the brand had no choice but to pull out its well-known H220 and H320 CPU coolers from US retail stores. CoolIT was the first to face the heat from Asetek's patents, but during the time neither companies made any comments about the lawsuit.
Interestingly, I've seen many hardware enthusiasts in the United States placing a group order via their favourite DIY-PC enthusiast tech forums for Swiftech H220 and H320 from Canada.
Related Tags