SAPPHIRE intros the Radeon R9 290X Vapor-X OC GPU
SAPPHIRE finally releases the GPU you've all been waiting for, the Radeon R9 290X Vapor-X OC.

Published Tue, Apr 29 2014 5:34 AM CDT
|
Updated Tue, Nov 3 2020 12:17 PM CST
SAPPHIRE has just announced it has released the new SAPPHIRE R9 290X Vapor-X OC GPU, which is an overclocked version of the already-fast Radeon R9 290X. We have GPU clocks at 1080MHz, while the 4GB of GDDR5 coasts along at 1410MHz.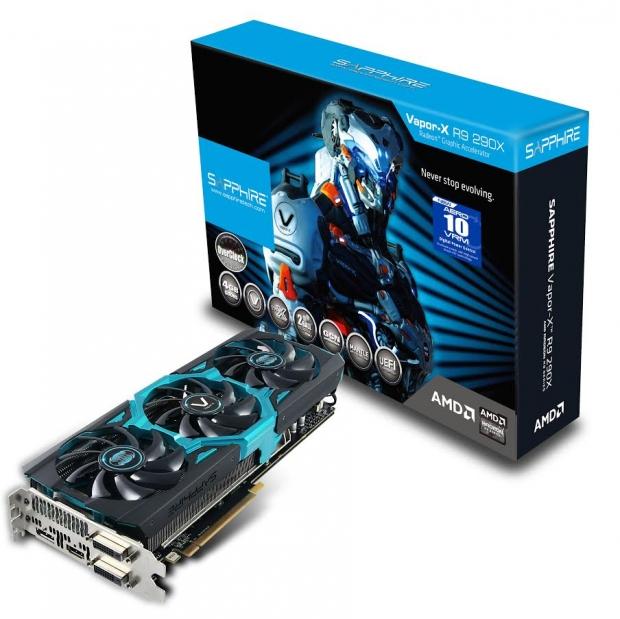 But the star of the show here is definitely SAPPHIRE's impressive Vapor-X cooling system, which sports vapor chamber technology, which is mounted between the GPU itself, and the base of the heat sink and cooler - this way, it draws as much heat as possible away from the GPU, and onto the cooler. SAPPHIRE has used a new Vapor-X cooler, which leverages its amazing Tri-X structure.
The Tri-X structure features five heat pipes, and three very efficient fans. This should keep the new SAPPHIRE R9 290X Vapor-X OC GPU cool, even when overclocked past its already overclocked speeds. There's also the Digital Power control on the new Vapor-X OC card, as well as a new Aero10 VRM section which pumps 10-phase power with high-power Direct-FET technology into the GPU, memory and circuitry.
SAPPHIRE has done something very unique with its new R9 290X Vapor-X OC GPU, with a visual indicator on the card itself. The SAPPHIRE logo on the side of the card has a LED inside, which will change color based on the current temperature of the GPU - from blue when it's running cool, to yellow when it's on a little bit of load, right through to red when it's running hot.
You should be able to find SAPPHIRE's new R9 290X Vapor-X OC GPU with your favorite e-tailers and retailers in your country.
Related Tags