Kevin Rose targeted by crazy anti-tech protesters in San Francisco
Google Venture's Kevin Rose labeled as a "parasite" from anti-tech protesters who staged a picket line in front of his San Francisco home.
Published Mon, Apr 7 2014 8:18 PM CDT
|
Updated Tue, Nov 3 2020 12:17 PM CST
Ex Digg Nation host and Revision 3 founder, Kevin Rose, became a target of a very odd movement in San Francisco over the weekend. Rose says that anti-tech protesters gathered outside of his home in San Francisco and chanted phrases such as "Kevin Rose is a Parasite." The protesters targeted Rose because he is one of the partners at Google Ventures, and they claim that the booming tech industry is causing San Francisco to become affordable for anyone but the rich.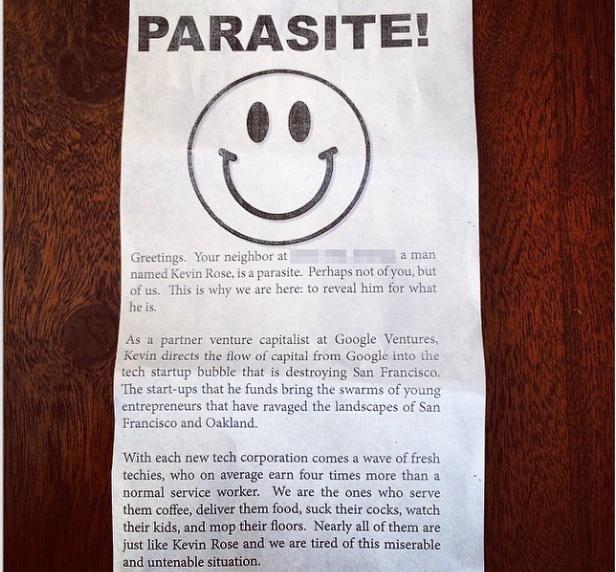 Rose first posted the incident on Twitter, where he posted an image of the flyer that the group calling themselves "The Counterforce" handed out to his neighbors. "As a partner venture capitalist at Google Ventures, Kevin directs the flow of capital from Google into the tech startup bubble that is destroying San Francisco. The start-ups that he funds bring the swarms of young entrepreneurs that have ravaged the landscapes of San Francisco and Oakland," the pamphlet read.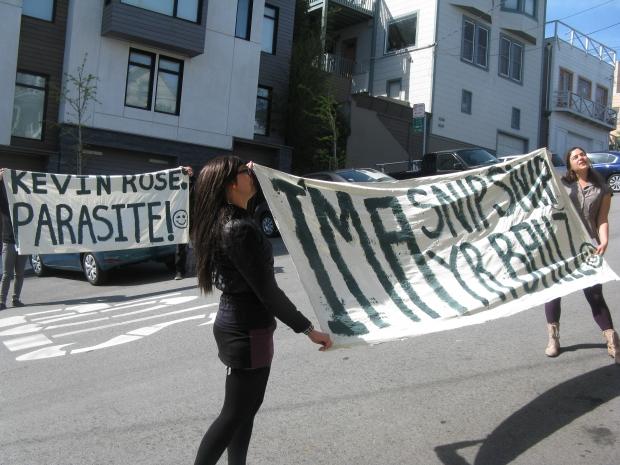 The group says that it is made up of anti-capitalist, anti-tech, anti-racist members from the bay area, and they feel that the San Francisco culture has been killed by rich techies from big corporations and start-ups throughout Silicon Valley. In an interview with Leo Laporte on Twit.TV, Rose said that he spoke with the protesters, and they did no seem violent, but he was not happy about the protest.
The activist posted photos from the protest on their website and posted a rather lengthy note that shows their goal is to extort $3 billion from Google so they can found communities throughout the bay area that will prevent the rich, tech-savvy entrepreneurs from moving in. I have included the full statement below. Personally, protest like this make me sick, and I wonder what these protesters would do if all of the tech companies packed up and moved east. California's economy would be crushed, and they would have no where to go but their little hippy "anti-capitalist" communities and whine about something else.
"To this end, we now make our first clear demand of Google. We demand that Google give three billion dollars to an anarchist organization of our choosing. This money will then be used to create autonomous, anti-capitalist, and anti-racist communities throughout the Bay Area and Northern California. In these communities, whether in San Francisco or in the woods, no one will ever have to pay rent and housing will be free. With this three billion from Google, we will solve the housing crisis in the Bay Area and prove to the world that an anarchist world is not only possible but in fact irrepressible. If given the chance, most humans will pursue a course towards increased freedom and greater liberty. As it stands, only people like Kevin Rose are given the opportunity to reshape their world, and look at what they do with those opportunities."
Related Tags