The new Raspberry Pi is here and it's not what anyone expected
The Raspberry Pi foundation has just released the all new Raspberry Pi Compute Module, utilizes the SO-DIMM form factor for easy integration into projects.
Published Mon, Apr 7 2014 2:47 PM CDT
|
Updated Tue, Nov 3 2020 12:17 PM CST
Its been more than two years since the first Raspberry Pi was shipped, and today the Raspberry Pi Foundation announced a new way to get your Pi on. The new Raspberry Pi Compute Module is based on the SO-DIMM form factor that is popular with DDR2 and DDR3 RAM in many modern laptops, but do not confuse that as being compatible with the SO-DIMM port on your laptop because it is not. The Raspberry Pi foundation says that this new form factor is designed to help makers embed their Raspberry Pi projects into final products.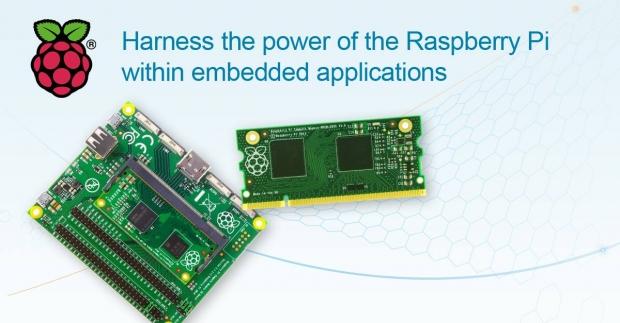 The new Raspberry Pi compute module features a Broadcom BCM2835 chip with 512MB RAM with an on board 4GB eMMC Flash memory for booting the OS. The overall footprint of the device is 65mm x 30mm and its 200 pin edge connector allows the full i/o and other pins from the BCM 2835 chip to be utilized instead of just 19 I/O like the original Raspberry Pi.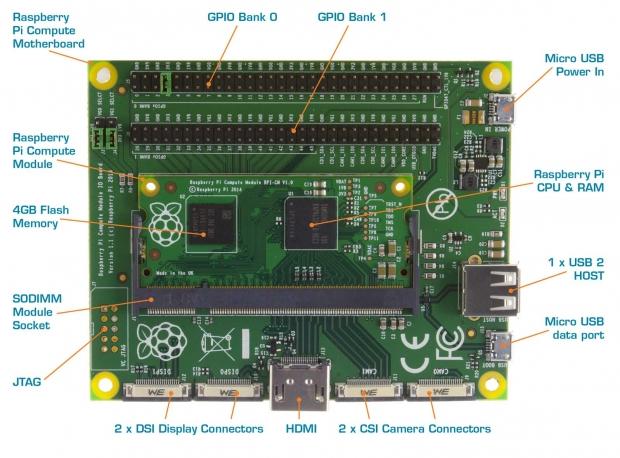 Accompanying the Raspberry Pi Compute Module is the new Raspberry Pi Compute Motherboard that features a 200-pin SO-DIMM module socket that enables you to connect the Raspberry Pi Compute Module. This board features 45 GPIO Pins, as well as CAN buss connectors, SPI and I2C connectors. Placement for an optional JTAG header is on the board as is a Micro USB power port and a separate Micro USB data port. A USB 2.0 host is featured and an HDMI port handles the video and audio out duties. Additionally two DSI Display Connectors, and two CSI Camera Connectors are featured as well.
I would have liked to seen at least a 3.5mm audio out jack, and a few dedicated servo connectors on the board. A connection for a battery connection, or at least a power supply circuit that left its input pins un-populated would have been nice. I would have also like to have seen a new SoC on board with the ability to support up to 2GB of RAM, but for some reason, no one is listening to the community's cries. With that said, this new form factor is going to make for some interesting projects, and with support for dual cameras, I hope to see some 3D scanner projects begin to pop up.
Related Tags