USB 3.1 Type C spec uses reversible connector design
The type C USB 3.1 connector is designed to replace micro USB 3.0 connectors and have easier connectivity for mobile devices.
Published Fri, Apr 4 2014 6:59 PM CDT
|
Updated Tue, Nov 3 2020 12:17 PM CST
The USB 3.0 promoter's group have finalized its design for the next USB connector. The USB 3.1 Type C cable and ports are designed specifically for providing easier connectivity with notebooks, tablets and even smartphones such as Samsung Galaxy Note 3 which uses micro USB 3.0 port.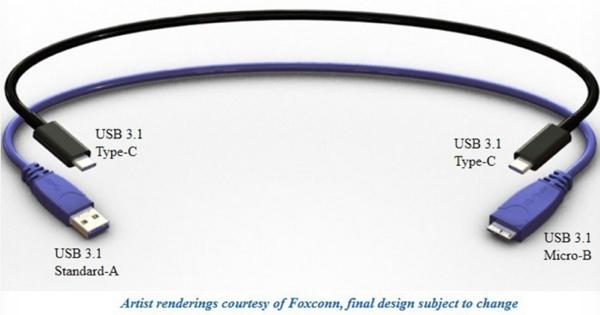 Another main feature is that the connectors are reversible. This way end users shouldn't be confused with which end of the connector goes to the device and the system. The newer connector is said to be as thin as micro-USB 2.0 made to be robust enough for notebooks and tablets, and even slim enough for mobile phones. It will also eventually replace existing micro USB 3.0 connectors.
The Type-C USB 3.1 connector also doubles up to 10 Gbps transfer speed. According to a spokesperson, the specification is scheduled to be completed by July, and products with the new connector should be out by end of this year.
It is said that the newer connector would be in the same size as Apple's very expensive lightning cable, which also has a reversible design, though the artist rendering from Foxconn is still subject to change as the design and final specs have not been finalized yet. But since drawings are released by USB-IF, at the very least we have the best idea of how the newer connectors will look like.
It will however not work on existing USB ports and the implementer's forum will have to develop a separate cable for existing products to work with USB 3.1.
Related Tags