Rubik's Cube solved in 3.2 seconds with the Galaxy S4 as a brain
Cubestormer 3, a Rubik's Cube robot, solved the plastic puzzle in 3.2 seconds using a Galaxy S4 as its brain.

Published Sun, Mar 16 2014 11:34 PM CDT
|
Updated Tue, Nov 3 2020 12:18 PM CST
There's better ways Samsung could market its smartphones, instead of letting Ellen use one at the Oscar's to take a selfie. How about using the eight-core brain of the Galaxy S4 to solve a Rubik's Cube in just 3.253 seconds?
Cubestormer 3 - a robot that solves Rubik's Cubes - in just seconds. The third-generation robot was built by co-inventors David Gilday and Mike Dobson for a single reason: speed. They used the eight-core variant of Samsung's Galaxy S4 smartphone, with the eight processors controlling eight Lego Mindstorms actuators.
Gidday explains: "We knew Cubestormer 3 had the potential to beat the existing record but with the robot performing physical operations quicker than the human eye can see there's always an element of risk." The eight cores inside of the Galaxy S4 analyze the cube's starting arrangement, then tells the four attached robot arms to process the required steps to get the cube into its complete state.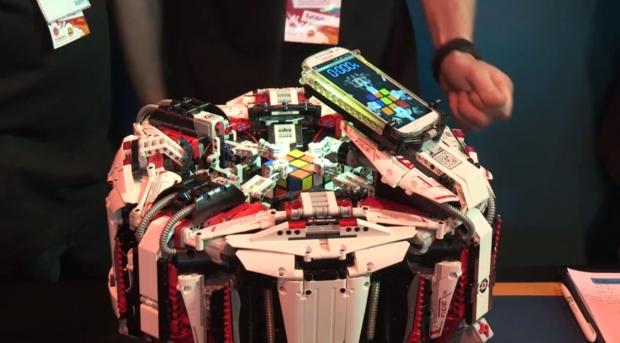 The robot itself uses a speed cube, something that allows it to twist the cube even when its sides aren't perfectly aligned. This means that the robot hands must be perfectly precise in order to move so quickly, and smoothly.
Related Tags