Science Fiction has long imagined a world where robot sentries patrol the streets, office buildings, and college campuses, and today those fictions became reality. A company called Knightscope has unveiled a new 5-foot tall robot dubbed K5 that is loaded with sensors, cameras, and connectivity to make it the best security robot ever to roam the hallways of silicon valley.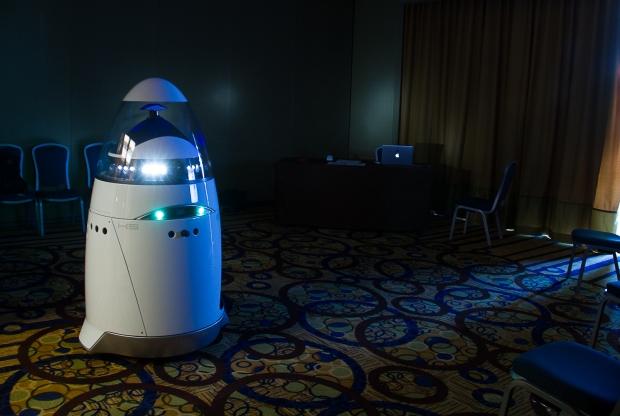 The K5 was launched today in San Francisco, and has the ability to see, feel, hear and smell, and can issue warnings of biochemical attacks, leaks, or even notify officials of high levels of radiation. The robot uses complex algorithms to scan images it captures with its cameras to detect human threats such as a gun wielding criminal, at which point it automatically notifies authorities. K5 is also capable of scanning license plates on-the-fly to verify cars parked in parking lots belong to employees or authorized visitors.
The robot also features night vision and thermal imaging cameras, and can be used to patrol buildings, grounds, and any other location that should be free of personnel during non business hours. K5 is fully autonomous and even plugs itself back into its charging station when the need comes to recharge its batteries, much like your household Roomba does. The robot is passive though and does not have the ability to carry, aim or discharge any weapons though, so concerns about safety should be non existent.