Back in 2013, we saw wearable tech really take the center stage and bloom into an entire new industry, with smart watches, exercise bands, and even smart glasses launching. 2014 is poised to take wearable technology to the next level, and if a new product being developed in Japan is any indication, wearables are going to get much more personal in the very near future.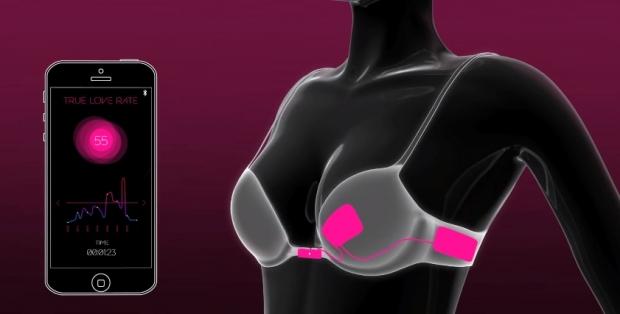 Pictured above is the "True Love Tester" bra, a piece of smart lingerie that is designed to thwart off sneaky companions who might try to unhook its clasps covertly while its wearer is distracted. Unfortunately, that task is much harder with a smart-bra than it is with traditional underwear. The True Love Tester bra features sensors that feed back information on its wearers heart rate to a smartphone which analyzes the data and will only release the clasps if the heart rate signature indicate "true love."
The accompanying app is able to discern from other strenuous, heart rate elevating activities such as running, shopping, eating spicy food, or even getting frightened while watching a scary movie. While this all sounds cool, the app does not simply release a locking mechanism on the bra, it apparently flings the cups open with much gusto, which means that technology like this could provide for some interesting scenarios when worn in public with ones significant other near by.