Thecus has unveiled new NAS devices that are the industries first to support the new RAID 50 and RAD 60 storage formats. Thecus says that the new devices offer significant advances in performance and fault tolerance for small and medium businesses and enterprise customers.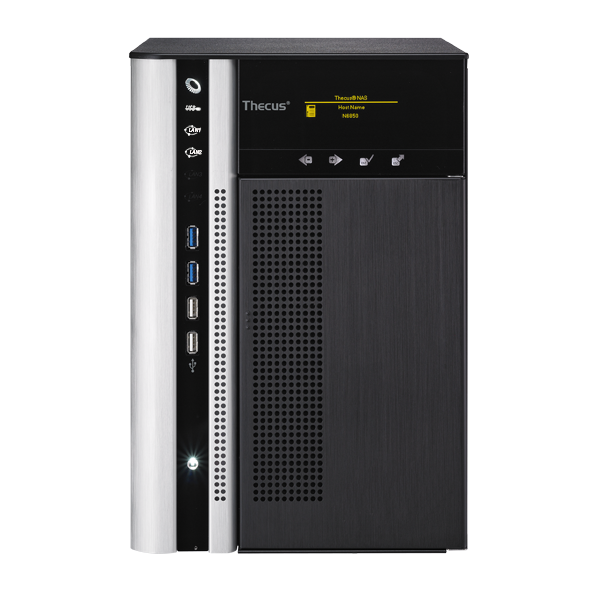 RAID 50 support has been built into the following Thecus NAS devices: N6850, N7510, N8850, N8900, N10850, N12000 N12000PRO, N16000, and N16000PRO. In addition, all devices with 8 bays or more, also support RAID 60. Each device also features optional 10GB Ethernet cards, and with a maximum capacity of 24TB in the largest device, there is more than enough room for your business to expand.
"SMB and Enterprise firms have long been looking for a NAS solution that leverages the latest innovations to combine reliability, performance and cost effectiveness in a single device. By being the first to bring RAID 50 and RAID 60 to the NAS device market, we believe we have finally met this growing demand," said Florence Shih, General Manager at Thecus. "We're already seeing great interest from our SMB and Enterprise partners."
RAID 50 combines the advantages of RAID 5 and RAID 0, to surpass the performance of both of these lower RAID levels. RAID 50 brings improved read speeds, significantly faster write speeds, greatly improved fault tolerance, reduced access time in random access operations, and greater storage capacity. RAID 60 combines the best of RAID 6 and RAID 0, to improve further on these advances.

Compared to RAID 10, RAID 50 and 60 require much less overhead storage capacity,. Therefore, they cut system costs, power usage, and physical space demands, while still retaining the ability to survive multiple drive failures that would wipe out lesser RAID systems. The greater fault tolerance of RAID 50 and 60 also means little or no loss of performance while a failed drive is swapped out and restored.