Someone in Germany just bought $150 million worth of Bitcoins
194,993 Bitcoins were just acquired by someone in Germany, with a value of over $150 million.

Published Sat, Nov 23 2013 4:01 PM CST
|
Updated Tue, Nov 3 2020 12:19 PM CST
Update: It seems that there wasn't 'someone' or a company that purchased these Bitcoins, but rather a transfer of Bitcoins. It could be that Bitstamp possibly moved its own funds around, which made this look (to a Bitcoin novice like myself) a massive transfer worth $150 million, and thus, major news - but it looks like it was not. Apologies.
Bitcoins have been going up and down in price, where we saw it rise past $600 in value just a few days ago, but now the price is beginning to stabilize. Bitcoin has been making the mainstream headlines quite a lot, but this latest transaction should see much more attention paid to the digital currency.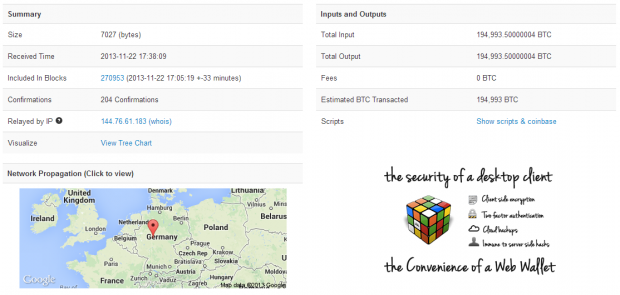 Someone in Germany must have quite a lot of cash on-hand, as they just acquired over 194,000 Bitcoins... which has a value of approximately $150 million. Yes, $150,000,000 in Bitcoins. Even the richest people around don't just have $150 million in cash to just spend, so are we looking at a central bank or government scooping up all these Bitcoins?
Also remember, that Germany has recently recognized Bitcoins as a "unit of account" which means it can be used for private transactions. This means that the German government can now tax owners of Bitcoins, and this new $150 million transaction will have quite the tax bill, won't it? Whatever has happened, and whoever has bought these Bitcoins, some serious money just changed hands.
Related Tags