ASUSTOR now features compatibility for PowerWalker UPS devices
ASUSTOR integrates support for PowerWalker UPS devices in its line of NAS systems.
Published Tue, Oct 29 2013 1:37 PM CDT
|
Updated Tue, Nov 3 2020 12:20 PM CST
Today ASUSTOR announced that its line of NAS storage devices are now fully compatible with over 100 different Uninterruptible Power Supply (UPS) devices in the PowerWalker line from BlueWalker. ASUSTOR says that the integration of PowerWalker UPS' with its NAS systems allows SOHO and small business users greater flexibility and a larger variety of solutions when searching for a UPS.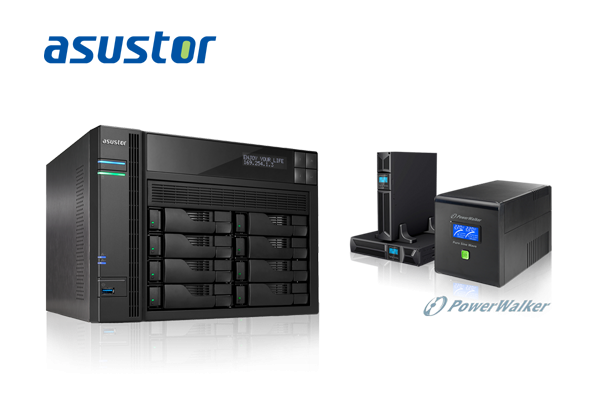 "Due to both European big distribution channel strong request, PowerWalker UPS and ASUSTOR NAS cooperate together to offer end-user a reliable solution for their high value device & critical data" said Jörg Bous, Business Development Manager at BlueWalker GmbH. "After 6 months closely testing, we are happy to announce all the customers could have these solution available from now."
"In order to protect their critical electronic equipment against the damage that can potentially be caused by power outages and power surges, modern enterprises can choose to deploy uninterruptible power supply mechanisms," said Quote Lin, Director of Research and Development at ASUSTOR. "After passing our strict verification and testing process, we are happy to announce that PowerWalker UPS devices are now compatible with all ASUSTOR products. This provides our users with a wealth of options when choosing a UPS device to provide protection for their NAS."
The use of a UPS in a NAS deployment is critical to prevent data loss in the event of a power outage that might occur during a data transfer. This is especially important for NAS devices that implement solid state drives as their storage medium as data loss can occur not only during an outage, but can happen during brownouts and power fluctuations. A UPS will power the system long enough to complete transfers, and then allow the system to be safely shutdown to prevent data loss. To see if your device is compatible head to the second source link below.
Related Tags