Today KFA2, Galaxy's premium brand of graphics cards, released its all new GeForce GTX 780 HOF Edition GPU. The company says that each of the new GTX 780 HOF GPUs are hand-picked and then given an incredible factory overclock of 1058MHz. This makes the card as much as 20-percent faster than a standard GTX 780.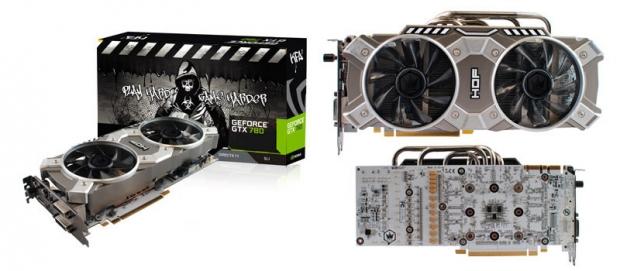 The company has added a new Hybrid Vapor Chamber Heat Pipe Cooler that is said to transfer heat 30x more efficient than copper. Twin 90mm fans are specially designed with grooved blades to reduce noise while increasing cooling efficiency. In a press release, KFA2 said that the GTX 780 HOF edition has been completely redesigned and populated with the highest quality components possible.
Most notable of these are the CHiL CHL8318 top-of-the-line VR11.1 compliant digital PWM and IR3550 PowIRstage DrMOS 4.0 compliant chipset, which together create a powerful 8 + 2 phase circuit with 90-percent efficiency capable of delivering an awe inspiring 480 amps of current to the GPU. Other additions include high quality POSCAP capacitors with 2X longer lifespan and high current Coiltronics inductors. The PCB itself is a custom white substrate with 10 layers for optimum signal routing.
KFA2 has also added a new Hyper Boost button that acts as a hardware supercharger and increases core clock speeds by up to 8-percent. The company says that multiple world record benchmark scores have been broken already by just using this button. In my opinion, this is one of the best looking GPUs on the market aside from a GTX TITAN. The all white PCB combined with the mech-styled cooler creates a look that just screams power!