Today NVIDIA announced a partnership with Warner Bros. Interactive Entertainment that will give those who purchase new NVIDIA GeForce-based GPU's the highly acclaimed Batman: Arkham Origins video game. The new title in the Batman series features an expansive Gotham City, and introduces a new original prequel storyline set several years before the events that took place in Batman; Arkham Asylum, and Batman Arkham City.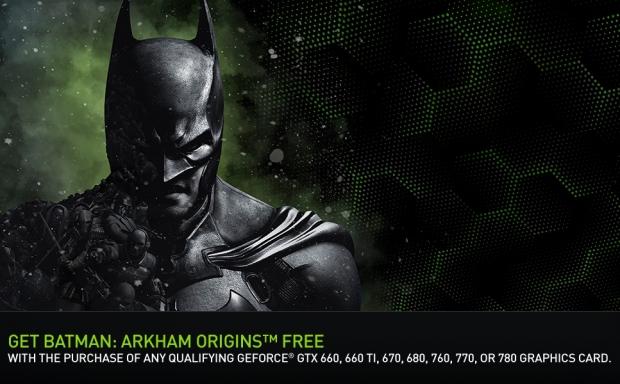 "The Batman: Arkham games are visually stunning and it's great that we are able to continue building upon the amazing graphics with Batman: Arkham Origins," said Samantha Ryan, Senior Vice President, Production and Development, Warner Bros. Interactive Entertainment. "With NVIDIA's continued support, we are able to deliver an incredibly immersive gameplay experience."
And if you're attending PAX PRIME this weekend, anyone attending the sneak peek of Batman: Arkham Origins will also have the chance to purchase a bundle package at the special kiosk inside the NVIDIA booth, and will receive a limited-edition Batman lithograph. Eligible GPU's include the GeForce 660, 660TI, 670, 680, 760, 770 or 780 high-end graphics cards.