Game sharing has become quite the hot topic lately with both the Xbox One and PlayStation 4 having thoughts on how to do it and still turn a profit. As always, the true innovation begins in the PC gaming world. Steam is apparently looking into a process that would allow you to share your purchased PC games.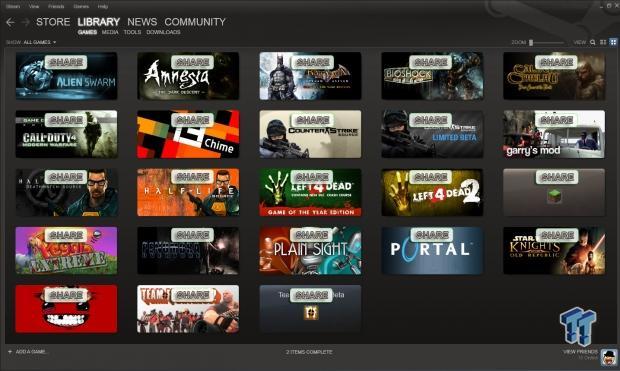 In the latest Steam beta release, a short section of code has been spotted that discusses a "Shared Game Library" which appears to allow other steam users to use your games. However, you are only allowed to share the game with one other user and that person can only play the game when you are not playing it.
What happens if I want to play my game but my friend is playing it? Well that is quite simple, if you attempt to load a game which is being played by another user, Steam will send them a message letting them know that you want to play and since you are the owner they should stop and let you play. Below I have pasted the short snippet of code that has led to all the speculation.
"SteamUI_JoinDialog_SharedLicense_Title" "Shared game library"

"SteamUI_JoinDialog_SharedLicenseLocked_OwnerText" "Just so you know, your games are currently in use by %borrower%. Playing now will send %borrower% a notice that it's time to quit."

"SteamUI_JoinDialog_SharedLicenseLocked_BorrowerText" "This shared game is currently unavailable. Please try again later or buy this game for your own library."