Micron Announces the New P420m PCIe 25nm MLC Enterprise SSD
Micron's new P420M I/O Accelerator is here, welcome to the new king.
Published Thu, May 2 2013 8:14 AM CDT
|
Updated Tue, Nov 3 2020 12:23 PM CST
Today Micron is unveiling their new P420m I/O Accelerator in two form factors. The P420m rounds out Microns ever-growing line of enterprise offerings with a standard PCIe HHHL (Half-Height Half-Length card and the world's first MLC 2.5" PCIe SSD.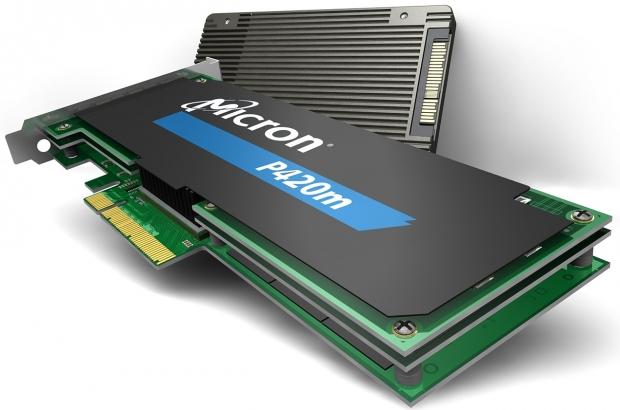 The Micron P420m accelerates performance of today's demanding data center applications, including online transaction processing (OLTP), data warehousing and virtualization. The 2.5" P420m will come in capacities of 350 and 700GB and features random read performance up to 430,000 I/OPS. This version also packs a whopping 1.8 GB/s of sequential read performance, far above any other 2.5" device on the market.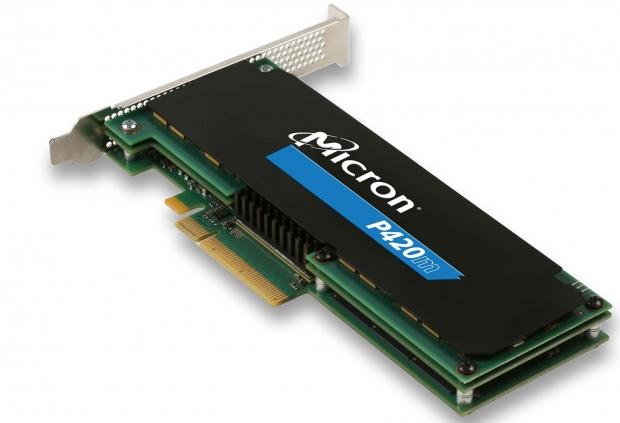 The HHHL card, which slips into a standard PCIe slot, will come in capacities of 700GB and 1.4TB. These x8 PCIe Gen2 cards sport 750,000 random read I/OPS and up to 3 GB/s of sequential read throughput. Both versions support 1-4 DWPD (Drive Writes Per Day) of endurance.
Microns first PCIe offering was the SLC juggernaut P320h. This card serves the high-end market that requires ultimate durability with 10+ DWPD. Micron was also the first to market with the PCIe P320h 2.5" SLC SSD, a front-loadable SSD with hot-swap capabilities.
The P320h series tackled the high performance market, and now Micron is turning their attention to the mainstream market with the lower-cost P420m. The PCIe market is exploding by anyone's count, and Micron is predicting a much larger market exists with mainstream MLC-powered I/O Accelerators in comparison to the upper-end SLC products.
Vertical integration is one of the keys to Microns success in the SSD arena. Owning their own fab puts them in a great position to price their products competitively. More importantly, this also provides Micron with a deep understanding of the building blocks used in their products, ensuring tight integration and expanded functionality. Micron produces the NAND, DRAM, controller and firmware. The P420m bears the same Micron controller that powers the P320h. This controller is manufactured for Micron by IDT and features Micron's own custom firmware.
This tight control of all facets of design and manufacturing provides Micron with comprehensive quality control and a guaranteed supply of all components.
Hardware is only the beginning of a complete storage solution. Firmware and storage architecture can be the difference between a mediocre product and a truly stellar performer. With the MicronP400m we noticed the migration of the RAIN (Redundant Array of Independent NAND) functionality from the P320h to the P400m. This creates a layer of parity on the device itself, allowing for expanded protection for user data. The P400m also debuted XPERT (eXtended Performance and Enhanced Reliability Technology), which consists of additional features for increasing SSD performance and reliability.
Micron is rolling this suite of Micron-designed storage architecture enhancements into newer products, and XPERT comes onboard the P420m to increase NAND endurance and ensure data integrity.
Additional facets of the XPERT approach include RAIN, Adaptive Read Management/Optimize Read (ARM/OR) and DataSAFE technology.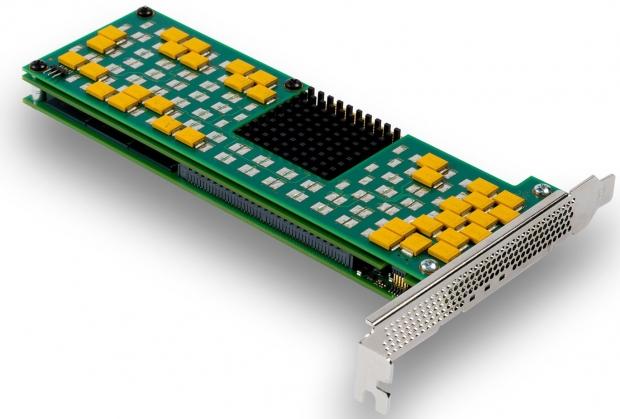 The P420m features tantalum capacitors for power hold-up in the event of an unexpected power loss. These yellow capacitors, seen on the bottom of the card in the graphic above, provide enough
capacitance to flush data in flight and commit it down to the NAND.
The P420m provides enhanced TCO in comparison to the HDD competition. It can take literally thousands of HDDs to match the performance of an I/O Accelerator, leading to increased power consumption, heat, and space requirements. The P420m provides an efficient solution with a much higher I/OPS-to-Watt ratio and superior I/OPS per dollar (pennies on the dollar compared to HDDs).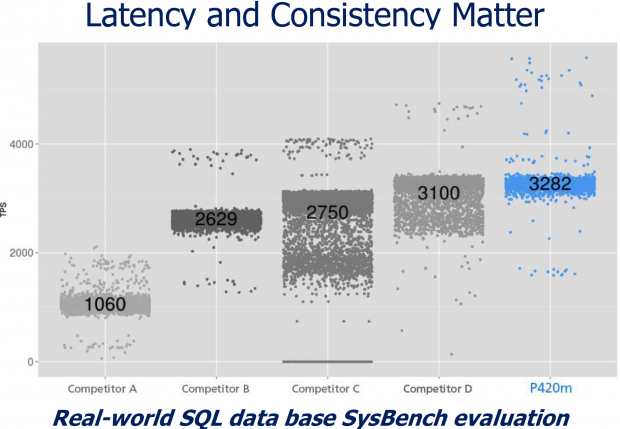 The P420m is designed for mainstream applications, providing a lower-cost solution with excellent performance metrics. The graphic above shows the result of a P420m in an SQL workload environment. The P420m has the highest average transactions per second, and the most concentrated data clusters. This test was conducted against the other heavyweights of the PCIe SSD market, illustrating Micron's focus on performance consistency.
The P420m is sampling now, and is in qualification cycles with key OEM partners. Micron expects production to begin in June 2013.
Related Tags