If you're after a gigantic SSD, Crucial's upcoming M500 in 960GB might do the trick. The mammoth-sized SSD was teased a couple of months ago at the Consumer Electronics Show in Las Vegas, but it looks like the drive is about ready to drop.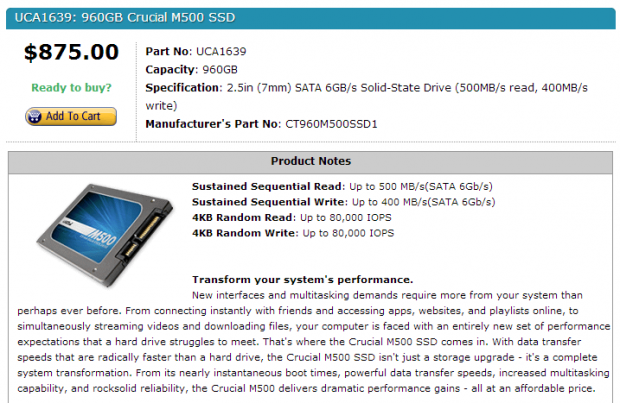 Upgradeable.com.au has it for sale, at AU$875. This is much more than Crucial teased at CES, where they promised the "First terabyte-class drive available for under $600" But, we're also talking about an Australian retailer, so we have 10% for GST bringing the price down to under $800, and AU retailers nearly always charge more than US retailers - so $600-$650 in the US isn't much of a stretch.
What does Crucial's M500 SSD in 960GB provide? Well, you'll see some sustained sequential read/write performance of 500MB/sec and 400MB/sec, respectively. 4KB random read/writes are both up to 80,000 IOPS. The controller doing all of the work inside the Crucial M500 is the Marvel 88SS9187 controller with "Micron Custom Firmware."