Dyson's Airblade Tap capable of drying (and probably blowing your hands off) at 420mph
Dyson Airblade Tap capable of drying your hands at 420mph, all inside the faucet itself.

Published Tue, Feb 5 2013 12:36 AM CST
|
Updated Tue, Nov 3 2020 12:24 PM CST
Dyson's latest and greatest invention is an update to their Airblade line of hand dryers, the Airblade Tap. Dyson's Airblade Tap integrates the drying functionality directly into the faucet itself, thanks to some great size reductions in the technology required to integrate the drying functionality into the faucet. Sir James Dyson, founder of Dyson said:
In washrooms using conventional taps, you'll need to move to a separate hand drying area, dripping water on the floors as you go. With the Dyson Airblade Tap hand dryer, water isn't dripped on the floor because you don't need to leave the sink with wet hands.
Dyson's Airblade Tap sports a smaller 1600W motor that is capable of drying hands in under 12 seconds as it's capable of pushing air out at an incredible 420mph. The hand dryer also cleans the air before blowing it onto your hands, with Dyson stating that it makes it much more convenient to use than regular hand dryers. The included HEPA filters reportedly pick up 99.9% of bacteria and viruses in the bathroom air, too.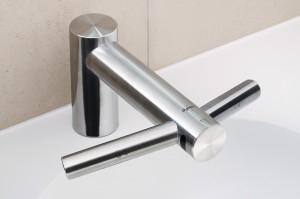 The new Airblade Tap sports infrared sensors, so you won't need to touch the tap for it to work, just slide your hands underneath and you'll be greeted with water, and then air respectively. The Airblade Tap can be pre-ordered right now, and should be made available on March 1st at 999 pounds. Dyson says that their new tap features low energy consumption, with the Airblade Tap reportedly costing up to 69% less to run than a traditional hand dryer, and 97% less than paper towels.
Related Tags