Some leaked roadmaps of Intel's next-gen Atom tablet chips have been made available, teasing the new chips that will be baked into tablets in early 2014. The new chips sport quad-core CPUs, and DirectX 11-capable GPUs. All of this is built on a 22nm process, named Valley View-T.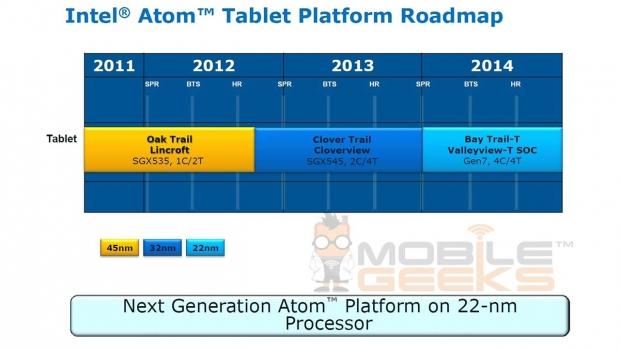 Bay Trail-T should arrive before hand, and will be given out to OEMs to bake into their tablets. We should see these new Bay Trail-T-based devices teased at CES 2014 (we're already talking about CES 2014!!) and the main competitors should be working with ARM Cortex-A15 architecture SoCs, or NVIDIA Tegra 3 SoCs. Intel's new Bay Trail-T, when compared to its predecessor, Clover Trail, is quite impressive. Built on a 22nm process, it pushes new lower power consumption numbers, as well as increased performance. Clover Trail finds itself on the 32nm process, and its competition, the ARM Cortex-A15 being built on the 28nm process.
Moving on to Valley View-T, where we'll see Intel drop the hyper-threading capabilities, but increase the core count from two to four. Moving from a dual-core design, to a proper quad-core design should see performance improvements of around 50-60%. Backed up by a new GPU based on the HD 4000 series, as well as new LP DDR3-1067 RAM, we should expect performance to increase, big time.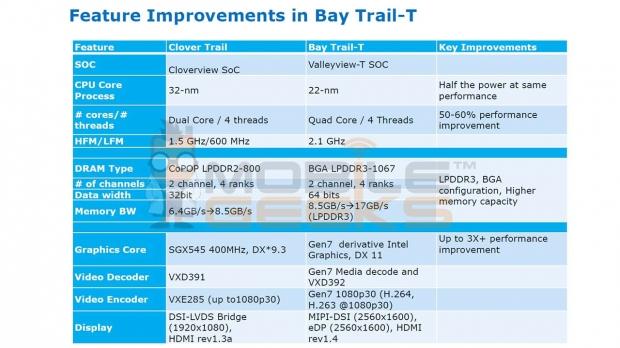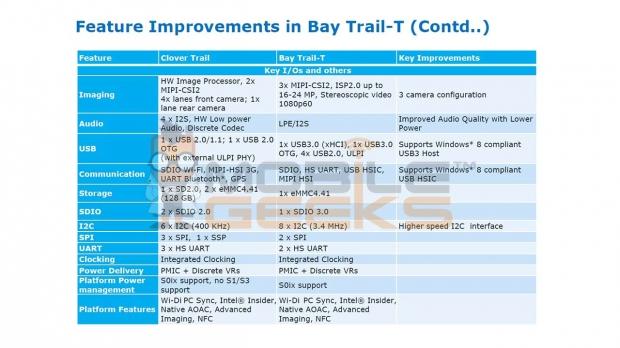 Intel's upcoming Valley View-T SoC is also the first "out-of-order" chip based on the Intel Atom and Core Silvermont. We should see clocks of around 1.6GHz to 2GHz sporting 512KB of L2 cache each, providing us with 2MB of L2 cache in total. Considering the new mobile chip will sport Intel HD 4000 graphics, with DirectX 11 support, we should see some serious GPU horsepower, even decent games on the new Intel chip. Valley View-T will be capable of driving displays up to 2560x1600 - yes!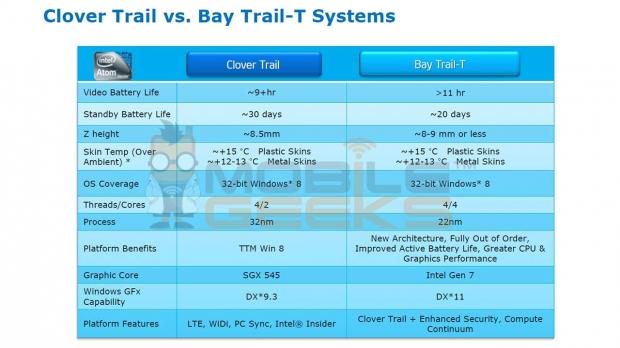 Bay Trail-T will offer the ability of stereoscopic cameras for shooting 1080p at 60fps, another great part of the new platform. Some of the details we'd like to hear about in the near future are prices, and most of all - battery life. Intel hopes to have Bay Trail-T consume just half of the juice that its predecessor does, where we should hope for 10-hour or more battery life on a tablet, finally.