Dishonored has some great PC customization options
Arkane Studios' Dishonored sticks to PC roots, has great customizability options.
Published
1 minute & 7 seconds read time
Back in April, Arkane Studios' teased the debut trailer to Dishonored. Then, it was only last month that Arkane Studios talked of the PC standards being "a religion", and that the PC version will get its own interface. Now we're hearing more of the fruits of this developers labor.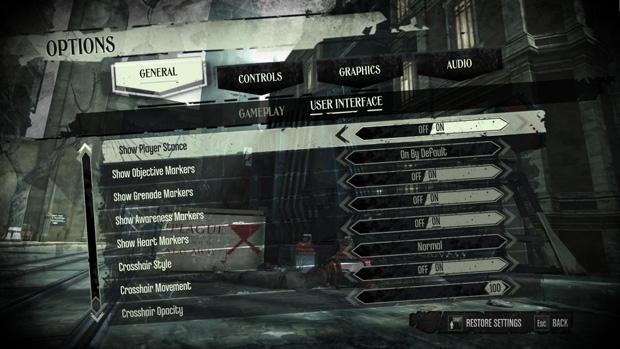 We can now see just how much Arkane Studios' passion for PC gamers has leaked into Dishonored. The official Bethesda blog offers a look into Dishonored PC's customization options, and there is quite a lot of them. In the above screenshot, you can really see the length to which Arkane Studios have gone. UI options allow the gamer to disable HUD elements one by one. This allows the best balance between hand-holding, and immersion.
Arkane are also offering the following:
The FOV slider for changing your field of view. (PC Only)

Controller and mouse sensitivity options, as well as four different options related to auto aim strength and aim assist.

The mouse smoothing/acceleration slider and enable/disable options. (PC only).

Graphics options for the full spectrum of monitor resolutions, anti-aliasing, and various other graphical toggles. (PC only).
PC gamers also luck out with an exclusive "shortcut bar", which will pop up when shortcut keys (which are mapped to 1-10 by default). The shortcut bar also gives players "a more familiar interface to select your powers and gadgets". You'll also be able to select items through a console-style "Quick Access Wheel", which will pop up when you press the middle mouse button.
All of this news of Dishonored, and its PC love, will definitely get a day-one purchase from me.
Related Tags