The coolest clock ever: The German, handmade Qlocktwo
The Qlocktwo is the coolest clock that you will ever see.
Published Wed, May 2 2012 6:32 PM CDT
|
Updated Tue, Nov 3 2020 12:28 PM CST
This has got to be the coolest clock that has ever been designed. I've seen pictures of this clock floating around the internet for a while now, but was always unable to figure out the name of it or who makes it. I have finally completed this quest, and now present to you the Qlocktwo. This is handmade by Biegert & Funk in Schwbisch Gmnd, Germany.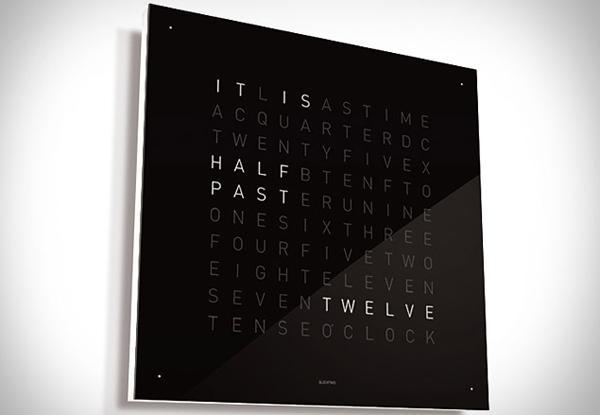 A description of the clock by the manufacturer:
QLOCKTWO makes you stop and look at time in a different way. The typographical display combines the moment with the written word and turns it into a statement. "It is half past nine."

The reduced square shape is restricted to the essentials and time is displayed by means of a square grid of letters. These characters light up in pure white to form words which describe the time. The 45 x 45 cm clock, made of wood with multiple coats of paint, can be used as a wall clock or as a free-standing object.

The front panel of the QLOCKTWO is fixed by magnets. In this way it can be changed without visible means of attachment. Brushed stainless steel or polished synthetic glass in seven colours are available.
It's slightly more money that I would like to spend. The original Qlocktwo costs $1,100 and is 17"x17". The Qlocktwo Touch costs only $599 and is 13"x13". I imagine that one of these could be made at home using an Arduino and it is a project that I am tempted to uptake. If you were wondering what to get me for Christmas, this is it.
Related Tags