The Federal Bureau of Investigation (FBI) shut down one of the world's most popular file-sharing websites today, MegaUpload.com. They also announced the arrest of four people behind a "global crackdown against the suspected online pirates", reported The Wall Street Journal.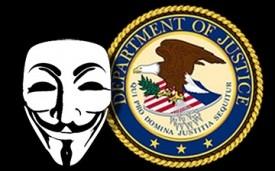 The U.S. Department of Justice (DOJ) indicted seven people and two companies in total, in the indictment, Megaupload and a company associated with it are accused of making $175 million while simultaneously causing approximately half a billion dollars in copyright infringement. The seven people indicted are: the site's founder, Kim Dotcom (a.k.a. Kim Schmitz), who holds residency in New Zealand and Hong Kong. Employees Bram van der Kolk, aka Bramos, 29, Julius Bencko, Finn Batato, Sven Echternach, Mathias Ortmann, and Andrus Nomm.
New Zealand authorities arrested the above-mentioned four people, Dotcom, Batato, Ortmann and van der Kolk, with the others not yet arrested. The indictment states that the accused are part of a, and get this, I'll quote it for effect:
the Mega Conspiracy, a worldwide criminal organization whose members engaged in criminal copyright infringement and money laundering on a massive scale.
If they are found guilty, and with this much hoopla involved, I don't see how they won't be, they could face time behind bars for up to 20 years.
My take: Why do we need SOPA/PIPA if intellectual property is protected? This proves it. IP was stolen, people were arrested. Why do we need crazy-insane laws and an entire clampdown of the Internet? This proves 100-percent that it is simply not required. The U.S. had power to work with international authorities to arrest people and charge them. That is some serious, serious power. You can hit someone with a car or shoot someone in cold blood and they (the authorities) don't put this much work into it.
Steal someone's IP and you get the full power of the FBI, DOJ, and local authorities chasing after you. Even when you're not a citizen of the free Americas.
In my opinion, this is simply the beginning.