Sapphire are preparing 6 non-reference AMD Radeon HD 7970's
Sapphire to have some super-overclocked Radeon HD 7970's, coming very soon.

Published Sun, Jan 1 2012 7:28 PM CST
|
Updated Tue, Nov 3 2020 12:30 PM CST
First off, Happy New Year! I hope you're all enjoying your festivities, while here in South Australia it has been a blistering 41C (over 104F) for the past 2 days straight and it is currently 43C right now. Joy! Onto the news! Our GPU editor sent this to me, and at first I thought it was tease, because he loves to do that to me. But, it was not, it was news that had floated onto the great world wide web.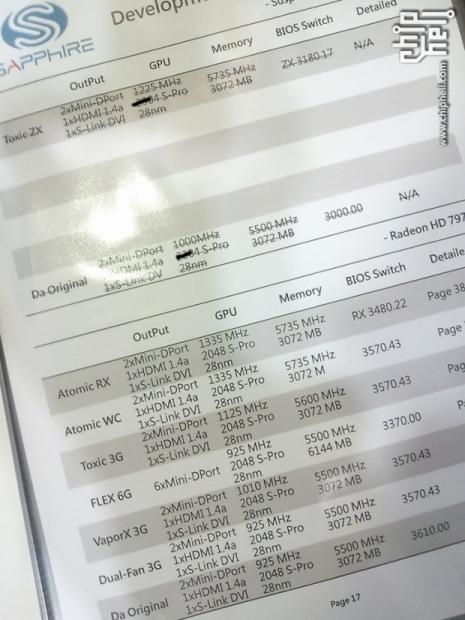 Sapphire's leaked document, which reveals their non-reference AMD Radeon HD 7970's that they are currently baking in Sapphire ovens. Sapphire have an amazing six cards that will be non-reference, all ranging in features, speeds and more. One of them is the "Atomic RX" which goes from the original 1000MHz Core speed to a whopping 1335MHz. It sports the usual 3GB of RAM up from the 5500MHz stock speed, to 5735MHz. Output-wise, we have 2 x MiniDisplayPort, 1 x HDMI 1.4a and 1 x Single Link DVI.
There is also an "Atomic WC" which seems to be identical, but a water-cooled version. The other models include "Toxic 3G" which has a GPU clock of 1125MHz and 5600MHz RAM, "FLEX 6G" which as you guessed, has 6GB of RAM and 6 x MiniDisplayPort outputs with GPU clocks of just 925MHz and 5500MHz RAM, "VaporX 3G" which should have Sapphire's awesome VaporX cooler, with GPU clocks of 1010MHz and 5500MHz RAM. The final two are the Dual-Fan 3G with 925MHz Core and 5500MHz RAM and finally, the stock "Da Original" with 925MHz GPU clocks and 5500MHz RAM.
I'd like 3 of the Atomic RX cards, thanks.
Related Tags