Newegg and Amazon report their holiday best-sellers
Newegg, Amazon report their holiday best-sellers.

Published Thu, Dec 29 2011 10:26 PM CST
|
Updated Tue, Nov 3 2020 12:30 PM CST
With Newegg in one corner as the second-largest online retailer in the U.S. and the number one destination for tech-savvy shoppers, with Amazon the top U.S. e-tailer in the other corner, both releasing their holiday best-selling item reports.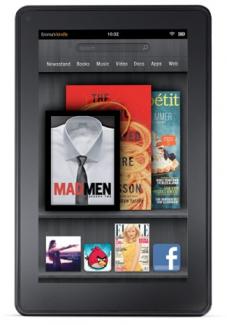 Neweggs list contains:
Laptops/Notebooks: 15.6" Asus A53E-EH91
Televisions: Sceptre 32" 720p LCD HDTV
Video Games: Microsoft Xbox 360 250GB Holiday Bundle with Halo Reach and Fable 3
Digital Cameras: Panasonic Lumix DMC-FZ47K 12.1 MP
Software: Microsoft Windows 7 Home Premium SP1 64-bit
Monitors: Acer G235HAbd 23" LCD
CPUs/Processors: Intel Core i5-2500K
Motherboards: Asus P8Z68-V Pro
Hard Drives: Seagate Barracuda ST500DM002 500GB 3.5"
Memory: G.Skill Ripjaws Series F3-12800CL9D-8GBXL 8GB (2 x 4GB)
Video Cards: EVGA GeForce GTX 550 Ti
It's interesting to see that under 'video games' its a complete console pack and not just a certain title like Call of Duty: Modern Warfare 3 or Battlefield 3 and that the GeForce GTX 550 Ti is a best-seller. Next up we have Amazon's list:
Electronics: Kindle Fire -- Kindle Touch -- Kindle
Video Games: Just Dance 3 -- CoD: Modern Warfare 3 -- Elder Scrolls V: Skyrim
Books: Steve Jobs -- Diary of a Wimpy Kid -- 11/22/63
Kindle Books: The Hunger Games -- Catching Fire -- The Litigators
CDs: Christmas -- 21 -- Duets II
Amazon MP3s: 100 Classic Christmas Songs -- Mylo Xyloto -- A Very She & Him Christmas
DVDs: Harry Potter and the Deathly Hallows, Part 2 -- Bridesmaids -- The Help
Amazon Instant Video: Super 8 -- The Help -- Crazy, Stupid, Love
Amazon Wireless: Droid Razr 4G (Verizon) -- Galaxy S II Epic Touch (Sprint) -- Galaxy S II 4G (AT&T)
Amazon App Store: Angry Birds (ad-free) -- Tetris -- Pandora Internet Radio
Definitely interesting to say the least. Amazon enjoyed shipping more than four million tablets and e-readers throughout December, some what of a great achievement for the Kindle, Kindle Fire.
Related Tags