Microsoft reveals SkyDrive Apps for both Windows Phone, iPhone
Microsoft unveils SkyDrive apps for Windows Phone, iPhone.

Published Wed, Dec 14 2011 12:30 AM CST
|
Updated Tue, Nov 3 2020 12:30 PM CST
Microsoft have unveiled SkyDrive for both Windows Phone and iPhone today, with Microsoft releasing it as people are increasingly needing access to their files on-the-go. Microsoft's Mike Torres has said: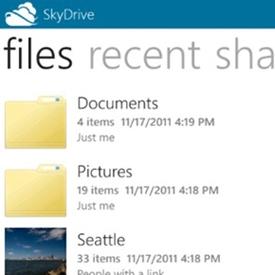 As devices proliferate, having a great experience on the Web is only one piece of a pretty complex puzzle. People are choosing where to put their files based on how portable and accessible they are across the various devices they use; therefore, it's critical that we continue to extend the SkyDrive experience to the devices you use every day.
Windows Phone's latest update, Mango, has deep integration with SkyDrive through its hubs Pictures and Office, which allows sharing of text, e-mail or IM. Users, as always, wanted more. Torres adds:
Many still want the full SkyDrive experience from Windows Phone, including tasks like browsing their entire SkyDrive, sharing links to folders or files, deleting files, and creating folders.
If you're on an iOS-based device, hit up the App Store and download the SkyDrive app. Torres adds about the iOS version:
On the iPhone, we've taken the next step by making the new SkyDrive app for iPhone available in 32 languages worldwide. In addition to their OneNote notebooks, iPhone customers can now access all of their files in SkyDrive, create folders, delete files, and share links to folders and files directly using the Mail app.
Related Tags